Why Asia's nuclear tigers can't stop building reactors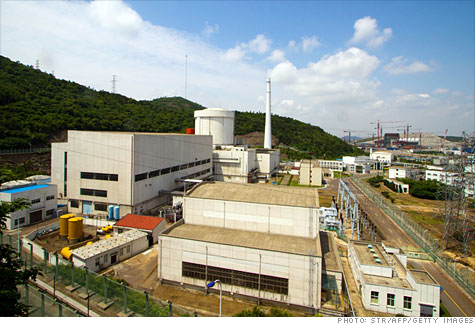 FORTUNE -- When night falls on the floating villages of the Mekong River in Southeast Asia, a faint light emits from inside hundreds of huts propped on stilts above the river's surface. Though there is no electricity here, people watch television using power from a rechargeable car battery.
There are plans for electricity soon enough. Faced with rising fossil fuel prices and concerns about global warming, governments across this region have ramped up efforts to figure out how to meet the gap in the supply and demand of the region's energy needs.
Nuclear power has long been considered a promising solution here. Although the global nuclear energy industry suffered a dark period after the catastrophes at Chernobyl in Ukraine and Three Mile Island in the U.S., it's staged a comeback even as environmental concerns mount. As of 2010, some 65 countries without nuclear plants are either considering or actively planning for nuclear power, according to a report by the International Atomic Energy Agency. Two-thirds of nuclear plants under construction are in Asia, with China and India leading the push.
Enter Japan's nuclear crisis. Suddenly, the growth prospects for nuclear energy in Asia have been top-sided. On Wednesday, China announced it would halt all new nuclear plant approvals -- about 40% of the planned projects in the world.
The question for industry watchers is whether the Japan crisis will prove a turning point or a speed bump. The implications, both for the industry and for energy security and economic development, could be widely felt across Asia.
Fueling economic growth
Today, nuclear energy accounts for 16% of energy produced globally, and the OECD expects that number to rise to 22% by 2050. The majority of production remains concentrated in a few countries -- France, the U.S. and Japan account for 57% of the world's nuclear energy generating capacity -- but this picture is rapidly shifting. Nuclear power is no magic bullet for the clean energy needs of the world, but nuclear power in Asia is fundamental to the region's growth, perhaps more so than in any other region.
Unlike in Europe, where a relatively disparate population could effectively use solar, hydro, or geothermal energy as alternatives to nuclear power, Asia is a developing market with dense population centers that require compact energy sources to support billions of people. Vietnam alone has 87 million people -- more populous than Germany, the European Union's largest country -- and many of them are struggling to rise to middle class status.
"My feeling is that governments in this region don't see an alternative to nuclear power to keep economic growth going," says Dr. T.S. Gopi Rethinaraj of the Lee Kuan Yew School of Public Policy in Singapore.
China, whose electricity consumption levels rising by 12% per year, currently has 13 nuclear reactors in operation and dozens more in the pipeline. It is the most ambitious country in the world when it comes to going nuclear. It's unclear how long Beijing's halt of new nuclear projects will last -- the government says it must first refine its safety rules and check all existing reactors for potential hazards.
China's suspension is the most dramatic move thus far in Asia, although all governments with nuclear reactors in operation are announcing safety checks to ease public anxiety. Countries like South Korea and India, which have developed robust nuclear programs to fend off hostile neighbors, each harness 20 reactors to provide electricity for their expanding populations.
According to the World Nuclear Association, South Korea meets 35% of its energy needs with nuclear power, and aims to increase that amount to 59% by 2030. India is not nearly as dependent on nuclear energy, but both countries have so many deals in the pipeline that each would stand to lose a fair amount of money if plans stalled. India in particular, which just signed multi-billion dollar agreements with the U.S., has little choice but to continue.
Unrest in Southeast Asia
The story takes a different slant in Southeast Asia, where nuclear programs are just taking hold. Vietnam is farthest along, having signed definitive agreements with Japan and Russia earlier this year to build two reactors by 2025. The Vietnamese government claims it will stay the course. Indonesia, Malaysia, and Thailand have recently decided to build out nuclear programs.
Japan's nuclear crisis has duly prompted discontent. Protests erupted in Northern Thailand on Tuesday, and some members of the government called for Thailand's nuclear plans to be abandoned. New debate seized Malaysia as well, and the former Prime Minister is rallying support for a non-nuclear energy policy.
Perhaps most squarely in the crosshairs, now, is Indonesia. The Indonesian government has earmarked $8 billion for two nuclear reactors and the country has been training dozens of scientists since the 1980s in anticipation of its nuclear ambitions. Blackouts in Jakarta, the country's capital, are increasingly common. Coal and oil are running out. But Indonesia sits on the dangerous "Ring of Fire," making it home to more earthquakes than any other country in the world.
Simon Tay, the chairman of the Singapore Institute of International Affairs, recently wrote a Jakarta Post op-ed pleading for regional cooperation in setting nuclear safety standards. "The Japanese situation is a sharp reminder to be humble in the face of the risks and to bring a pause to breakneck ambitions," wrote Tay. "Countries that are vulnerable to earthquakes -- especially Indonesia, but also some provinces in China -- would be well served to re-look at safety issues."
It is clearly too early to know exactly how Japan's crisis will affect the nuclear industry. Policymakers in Asia are already drawing lessons from the crisis, saying that the biggest takeaway is that there will be a push to build future nuclear plants away from large populations and fault lines. All countries claim to have superior designs to Japan's 40-year-old reactor, with a more foolproof cooling system and power generators that aren't at sea level. Testing for earthquakes of this magnitude and beyond will now be included in safety checks.
The latest renaissance in public interest for nuclear was fueled by climate concerns -- concerns that have not gone away. Coal and renewables cannot fully meet Asia's rising energy demand. Politics remains a veritable obstacle right now for the global nuclear industry, particularly in the U.S. and Europe. But Asian governments -- specifically those that tolerate less public debate than in the West -- can be counted on to move ahead as planned.