New browsers offer tons of improvements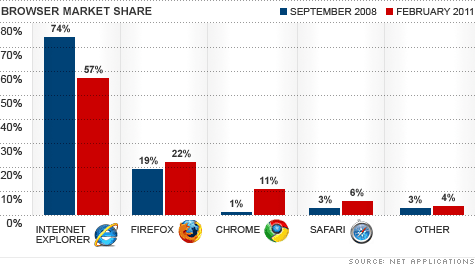 NEW YORK (CNNMoney) -- Did you hear the news about the best new Web browser?
It's going to be faster than ever. It has a vastly better user interface, giving prominence to the Web itself instead of the browser software, and you can search directly from the address bar. It integrates the latest that HTML5 has to offer, and it invites developers to write add-ons and extensions so users can customize their browsing experience.
Plus it comes with hardware acceleration, tapping into the previously underutilized resource of your computer's graphics card. It offers enhanced privacy controls, and it even syncs with your mobile phone.
Which browser is it?
Well, give or take a feature, that sums up the latest releases of Google (GOOG, Fortune 500) Chrome, Apple (AAPL, Fortune 500) Safari, Microsoft (MSFT, Fortune 500) Internet Explorer and Mozilla Firefox.
After a decade-long hiatus, the browser wars are officially back. With this week's ominous Ides of March release of Internet Explorer 9, last week's Google Chrome 10 release, and this month's expected release of Firefox 4, the three most-used browsers are all trying to outduel one another with the most impressive specs. Safari 5, which was released in June, also features many of the same modern features.
It's good news for consumers, but choosing the right browser can be a confusing challenge, given all the recent updates. Despite their similarities, there are some key differences.
Speed: All four of the major browsers have made significant improvements to their page load times by using a combination of smart caching and advanced rendering engines. Though certain browsers perform better with some sites than others, for the average user, the speed differences are essentially imperceptible.
The real distinction comes from a new browser feature called "hardware acceleration." It's supported by IE9, Firefox 4 and Chrome 10, which tap into the computer's graphics processor to get an extra boost of speed for complex Web pages. For instance, hardware acceleration allows sites to seamlessly layer HD video with other moving graphics in the background.
But not all hardware acceleration is equal. Our tests found that IE9's performance is generally better than other browsers, but it only works with Windows 7. Since 55% of the world's PCs are still running Windows XP, according to Net Applications, most people will miss out on that feature.
Firefox 4 and Chrome 10 let XP users get hardware acceleration, but on Chrome, users have to enable the feature, since it is not turned on by default.
Privacy: With a growing number of third-party advertisers collecting information about you on the Web, new browsers are finding ways to limit their ability to track you. IE9's tracking protection, Firefox's Do Not Track and Chrome's opt-out extension allow users some controls over who collects their data.
With Chrome 10, users can add an extension that lets them permanently opt out of tracking from third-party advertisers, even when they clear their browser cookies. But users still need to opt out from the Network Advertising Initiative's list of ads companies that volunteered to let people opt out.
IE9 forces users to add lists of companies or create their own list of advertisers they don't want tracking them.
Firefox 4 is the only browser that is working directly with the advertisers themselves, relying on trackers to voluntarily add themselves to a "do not track" list that users can enable.
Synchronization: Both Chrome 10 and Firefox 4 allow mobile users to sync their PC browsers with the browsers on their mobile phones.
Chrome users can install an application on both their Android phones and their PC browser called "Chrome to Phone." A user can then click on that button and send anything they're currently viewing on the PC to their Android device.
Firefox took that one step further. Mobile phone users can automatically view anything currently on their PCs from their mobile devices without the need to actively send it from their computer.
Unique features: It's not just their similarities that the browsers are fighting over. There are also some unique features that distinguish one from the other.
IE9 lets users pin sites to the taskbar and access jump lists with a right click. That means users can treat their favorite websites like applications.
Firefox lets users view and manage all of their open tabs in one window. Chrome keeps everything in the cloud, syncing browser history and settings with a simple sign-in. And Safari built Readability right into its browser, clearing ads and clutter out of Web pages.
So it's up to you which you choose, but the good news is that browser innovation is making a strong comeback.