At SXSW, investors and founders hunt for million-dollar hookups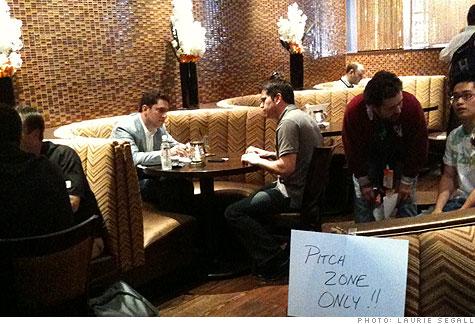 AUSTIN (CNNMoney) -- Among the 18,000 attendees who descended on Austin this week for the South by Southwest (SXSW) Interactive gathering were hundreds of venture capitalists and angel investors, prowling through the city in search of the next breakout tech invention.
At panels, parties, and private dinners, startup founders hustled to pitch their products and convince investors to gamble millions on their visions.
"This is the new Davos," said Blumberg Capital David Blumberg. "This is where the important people are meeting the important trends, the important ideas for the 21st century."
Blumberg, a San Francisco-based venture capitalist, has spent the last two decades investing in technology. He came to Austin to scout for new talent.
"This is the kind of place where I can meet so many people in a short time, in a casual informal atmosphere -- everybody's open," he said. "It's the opposite of the dark, closed, smoke-cigar-filled-rooms-style things of the past."
A "pitch a VC" event hosted at a local steakhouse by three firms -- Blumberg Capital, Intel Capital, and the Founder Institute -- drew more than 275 entrepreneurs, who turned out to make 10-minute pitches.
Attendees loved the investors' accessibility.
"The session went great," entrepreneur Damien Basile said after his pitch. "It was more about getting to know who the investor was -- just overall letting them know exactly what we were doing and where we were."
A week prior to SXSW, Basile launched an iPhone app called Addieu, which lets people to connect to Facebook, Twitter, and Foursquare through one service. He views finding the right venture capitalist to back his project like dating: He wants a good match, and he's willing to wait.
"I'm not looking for something that doesn't come with the relationship," he said. "I'm looking to this for the long run."
Blumberg said his company plans to follow up with around 15 of the companies it heard from at the event.
"There's one company in particular I'm really excited about," he said. "It's a social networking site. The trends look good. The entrepreneur is solid, and I think we're going to try to find a deal."
Some VCs employed quirky gimmicks for their pitch sessions. Union Square Ventures partner Albert Wenger invited entrepreneurs to give him an "elevator pitch" -- literally. The founders had only the length of an elevator ride to sell their idea.
Waltham, Mass., investment firm Polaris Ventures used SXSW's Startup Bus excursion to suss out promising ideas. Sponsored by the likes of AT&T and Microsoft, the event sent groups of aspiring entrepreneurs on a road trip from their home city to the conference. They had the length of the trip to invent and mock up a new business idea.
Dozens of pitches emerged, from which a team of judges picked two winners: Silicon Valley's WalkIn and New York's TripMedi. Their prize: a dinner with investors from Polaris Ventures.
Roland Dillion's pitch for TripMedi was simple: "Our idea is to make medical tourism available to everyone," he said in a taped pitch. "There's more than 50 million Americans who are uninsured, and we think this is a disruptive technology which can give healthcare to thousand of millions of people."
Can an idea thrown together in 48 hours actually become a viable business?
Bhavin Shah, one of the founders of WalkIn, says his crew wrote 12,000 lines of code for the contest and plans to keep developing its app. WalkIn lets restaurants track their wait lists and send patrons a text message when their table is ready.
The app's creators plan to spend the next few weeks checking out the competition, adding features and coding. Several investors approached the group at SXSW, Shah said, but he wants to hash the product out more before taking any funding: "Any time you take capital from someone, you want to have a good sense of what you want to build."
Matt Meeker, an entrepreneur in residence at Polaris Ventures, says his company views Startup Bus as a talent-spotting opportunity. The firm is as interested in the entrepreneurs as their creations.
"I can't judge a company in five minutes and decide if they are a huge opportunity," he said.
But for Meeker, watching entrepreneurs execute an idea and build under tough circumstances is a good indicator of how they'll fair in the long run.
"For us, it's certainly a scouting event," he said.