Oil jumps above $103 as Libya crisis escalates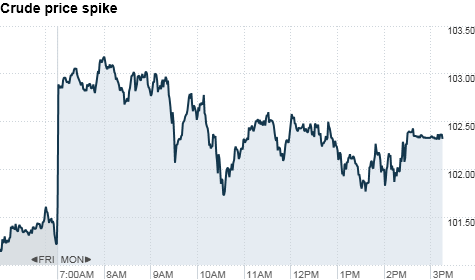 NEW YORK (CNNMoney) -- Oil prices surged in electronic trading Monday after coalition forces launched an attack on Libyan military targets over the weekend.
The benchmark U.S. contract, West Texas Intermediate, gained as much as $2.28 to top $103 a barrel for April delivery. It later dropped back to settle $1.26 higher at $102.33 a barrel. The more active May contract jumped $1.24 to settle at $103.09 a barrel. It briefly topped $104 in earlier trading.
Oil gains came as forces from a coalition that includes the United States launched air attacks on Libyan defense systems starting Saturday. Those airstrikes intensified on Sunday,striking Libyan leader Moammar Gadhafi's compound.
"There's significant upside risk to the oil market," said Phil Flynn, senior market analyst with PFG Best. "Lets face it, the situation in Libya is still in flux. And the entire region is in flux as well."
Oil is still below the $106.95-a-barrel high hit two weeks ago, after it fell following Japan's earthquake and subsequent nuclear crisis. Fears about a meltdown at the Fukushima nuclear power plant have calmed after engineers made progress in cooling the reactors over the weekend.
Meanwhile, Brent crude, the main European contract, rose 23 cents to $113.53 a barrel.
While Libya is Africa's third-largest oil producer and sits atop the continent's largest reserves, the country only contributes about 2% of the 87.5 million barrels of oil the world consumes every day.
Earlier this month, the International Energy Agency estimated roughly 1 million barrels per day of Libyan oil had been taken off the world market so far.
Saudi Arabia and other members of the Organization of the Petroleum Exporting Countries have pledged to increase production to make up for any lost oil due to unrest in Libya.
But concerns are less about Libyan production and more about how far the problems will spread.
"The market realizes that the concerns in Libya go beyond Libya, and even if the Libyan situation were solved today, we would still have to deal with other countries in the region that are still red hot," Flynn said.
Traders are worried about growing conflict in the Middle East, following protests in Yemen, Bahrain and Oman.
So far this month, oil prices are averaging just over $101 a barrel. In March 2010, prices averaged just over $81 a barrel for the entire month.