Stuck in reverse: Split doesn't fix Citi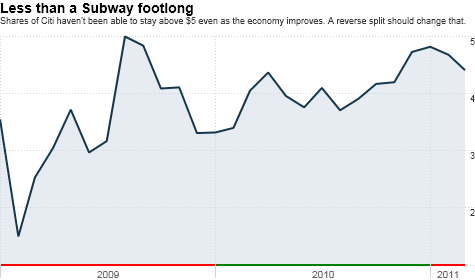 NEW YORK (CNNMoney) -- Citigroup will soon escape penny stock status. Shares of the beleaguered bank have, for the most part, been stuck below the $5 level for the better part of two years.
But Citi (C, Fortune 500) announced Monday that it is planning a 1 for 10 reverse stock split, which means shares currently trading at about $4.50 a pop will fetch around $45 after the split takes effect.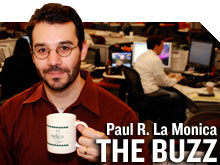 Good news, right? Big money managers that usually shun stocks that cost less than an Abraham Lincoln could now be tempted to take a closer look at Citi. Or not.
Investors initially cheered Citi's news Monday -- it also reinstated its mighty penny-per-share dividend. But by Monday afternoon, the stock was down 2%. The simple fact of the matter is that the reverse split should do absolutely nothing to change Wall Street's perceptions of the bank for the long-term.
Reverse splits reduce the number of shares outstanding and lift the stock price. But the value of the firm stays the same. A company with 1 billion shares at $5 a share doing a 1 for 10 split merely winds up having 100 million shares trading for $50 apiece. Market value is still $5 billion.
Reverse splits have often been used by desperate companies trying to pump their prices above $5 to attract more interest from mutual funds -- and sucker retail investors into believing that a higher absolute stock price means a company is healthy.
They don't often work. According to a 2008 study by professors at NYU's Stern Business School and Emory's Goizueta Business School in Atlanta, more than 1,600 companies that conducted reverse splits underperformed the broader market by about 50%, on average, in the three years after the split.
More potential bad news for Citi? April Klein, a professor of accounting at Stern and co-author of the study, said that companies trading below $5 a share before announcing a reverse split tended to do even worse.
Jennifer Tucker, an associate professor at the Warrington College of Business Administration at the University of Florida in Gainesville, said it's a "myth" that big investment firms will suddenly find a company more attractive just because its stock price is higher following a split.
"It's just a cosmetic change and is often a last resort for a company. Cash flows are usually still worse afterwards," said Tucker, who worked on the NYU/Emory study as a student at Stern. "A reverse stock split often only delays the inevitable."
Still, is the stigma tied to reverse splits starting to fade a bit? There have been some notable post-split success stories in the past few years.
Priceline (PCLN), for example, conducted a reverse split way back in 2003 and the stock has been on a monstrous tear since then, surging nearly 1,700%. Networking equipment firms Oplink Communications (OPLK) and JDS Uniphase (JDSU) have bounced back since splits a few years ago.
AIG (AIG, Fortune 500), which like Citi is still alive today thanks in large part to a massive government bailout, announced a reverse split in July 2009. Shares of the insurer have nearly doubled since then.
I must also sheepishly confess that my parent company Time Warner (TWX, Fortune 500) conducted a reverse split after it spun off Time Warner Cable (TWC, Fortune 500) in 2009. The stock has doubled in the past two years.
But these may be statistical anomalies. There are many more prominent examples of companies that continued to languish following reverse splits. Sun Microsystems struggled for years before Oracle (ORCL, Fortune 500) finally bailed it out by buying it. Ditto for Palm, which was acquired by HP (HPQ, Fortune 500) last year..
Tech companies Ciena (CIEN) and Conexant Systems (CNXT) were red hot in the late 1990s, tanked in 2000 and resorted to reverse splits. All three stocks still trade well below where they were prior to the split.
And even in some recent cases where reverse stock splits have led to decent gains, it's hard to get too excited about them. E*Trade (ETFC) split last June and shares are up just 7% since then. By way of comparison, top rival TD Ameritrade (AMTD) and the S&P 500 are each up about 20%.
Tech services firm Unisys (UIS, Fortune 500) reverse split in October 2009 and has gained more than 20% since then. But shares of healthier competitor Accenture (ACN) are up over 35%.
As with any investment, you have to look at each company on a case-by-case basis.
Jim Rosenfeld, associate professor of finance at Goizueta and another co-author on the reverse split study, said that companies that split in order to stay above the minimum price requirements for listing on the NYSE or Nasdaq tend to be the ones that face the most difficulty after the split. So that's one possible bright spot for Citi since the bank was not in danger of being delisted.
And Tucker said she doesn't fault companies with single-digit stock prices for trying a reverse split. If a stock is already facing oblivion, what's the worst that can happen?
It is kind of like an episode of "House." The cantankerous doctor and his team figure they can't screw things up for a patient more than they already are. So they do just about everything.
"Reverse stock splits do not lead to any fundamental change in your business. But if you are really sick, you want to try every medicine you can," she said.
But investors should probably steer clear of the reverse-splitters until there is evidence the medicine is working: i.e. real improvement in the company's outlook lifting the stock price.
Everybody freeze. Everybody down on the ground. I tweeted on Thursday about how Kimberly-Clark was raising the price of its Huggies brand of diapers to meet rising commodity costs.
That immediately brought to mind an amusing movie line and I challenged followers to name the film. "I'll be taking these Huggies and whatever cash you got."
The movie is the classic (and bizarre) Coen brothers comedy "Raising Arizona" -- back before Nicolas Cage stopped acting and just started screaming. The winner of the Buzz shout-out is Jack Bennett, aka @NJHounds. Congrats. And let the yodeling begin!
-- The opinions expressed in this commentary are solely those of Paul R. La Monica. Other than Time Warner, the parent of CNNMoney, and Abbott Laboratories, La Monica does not own positions in any individual stocks.