March Stock Mania: Ford topples Apple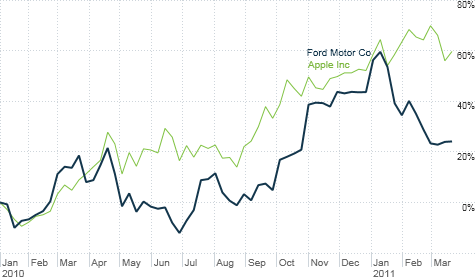 NEW YORK (CNNMoney) -- Though it's had a rough year so far, Ford's stock proved that it is built strong and tough.
After a week of voting for their favorite portfolio picks in March Stock Mania, CNNMoney readers picked the iconic auto maker as tournament champ, beating out Apple (AAPL, Fortune 500) by 57% to 43%.
Ford (F, Fortune 500) went head to head some formidable contenders on its way to the top, including AT&T (T, Fortune 500), Baidu (BIDU), Netflix (NFLX) and Exxon Mobil (XOM, Fortune 500). The automaker was a clear favorite, winning between 60% to 80% of the votes in each round.
In total, 25,510 votes were cast during the week long contest.
Shares of both Apple and Ford surged more than 50% in 2010, but so far this year, only Apple has kept the momentum going. In contrast, Ford's stock has tumbled nearly 14%, with a large part of the decline coming after the company missed fourth-quarter earnings expectations.
At the same time, Ford posted its biggest profit since 1999 and, at $14.51 a share, many see the stock as an opportunity. Paula Pant, a 27-year old Atlanta-based personal finance blogger, tweeted that she voted for Ford precisely because of its value.
Ford's stock is trading at less than 10 times forward earnings, while shares of Apple are priced at almost 20 times earnings.
Like Pant, Wall Street analysts are also optimistic about Ford's future.
"We believe that investors should be more confident of the sustainability of Ford's performance," said Deutsche Bank analyst Rod Lache.
Thanks to an efficient cost structure, healthy revenue from the sales of both cars and trucks, and some of the strongest new product pipelines in the industry, Lache forecasts shares of Ford will rise more than 30% this year to about $19.50. Bank of America analysts are even more upbeat with a $22 per share price target.
Despite its loss versus Ford, Apple trounced all its opponents ahead of the final match-up.
It won 94% of the votes in the first round against Sirius XM (SIRI), 82% versus Amazon (AMZN, Fortune 500) in round two, and more than 70% of the votes against Google (GOOG, Fortune 500) in round three. In the Final Four, 66% of voter chose Apple over manufacturing company Caterpillar (CAT, Fortune 500).
This wasn't the first time readers showed more love for Ford and Apple in an online showdown. Last November, CNNMoney and Fortune readers crowned Ford CEO Alan Mulally as Businessperson of the Year. Mulally took home 94% of the vote against Apple titan Steve Jobs.