Inside the mind of a nuclear flip-flopper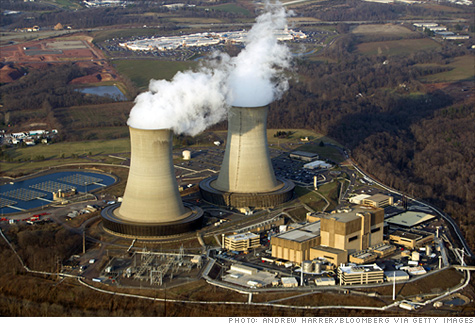 FORTUNE -- Like many of his colleagues, Rep. Steve Israel, the Long Island Democrat, arrived in Congress a skeptic on nuclear power. When he took office ten years ago, his views had been shaped by his district's ill-fated experience with the technology: safety problems and huge cost overruns dragged out construction of the Shoreham Nuclear Power Plant over two decades.
The project engendered intense local opposition, made worse after the Three Mile Island accident in 1979 spawned new federal rules mandating evacuation plans for communities around plants -- an impossibility there, given the geography of the island. The $5.5 billion facility was finally decommissioned in 1989 before it ever went into commercial production, the only fully licensed nuclear power plant to claim that dubious distinction.
"It was a horrible experience," Israel says of Shoreham.
But again, like many other policymakers over the last decade, Israel's views have evolved. An inflection point came in 2005. On a trip to the Middle East, military brass impressed on him the national security imperative of achieving energy independence. "Everybody was talking about the need to stop a nuclear-armed Iran, and how difficult that would be, given that Iran is the fourth-largest exporter of crude oil in the world," he says.
New investments in nuclear could help wean us off foreign oil, he thought, while also moving us toward a clean-energy portfolio. In the years since, Israel has emerged as a committed supporter of the industry.
Now, the ongoing disaster at the Fukushima Daiichi plant in Japan has revived the specter of a long history of nuclear foul-ups, once again shaking public confidence in the safety and soundness of the technology. The spasm of concern is rippling through Congress, as well. Some of the industry's Congressional critics are calling for a moratorium on new construction of nuclear plants.
Israel isn't going that far. But he believes a review of our own safety regime is in order. "We should pause," he said. "We should ensure that our permitting standards, that our safety standards and our technology are strong enough and robust enough so that more nuclear power doesn't result in the kinds of dangers they're experiencing in Japan right now."
New strategy for the nuke lobby
The severity of the disaster in Japan, and the extent to which the international emergency response team there can contain it, will likely have a lot to do with how far policymakers here go to redirect what had been an emerging nuclear renaissance in our energy debate. But even the industry's staunchest defenders in Congress are acknowledging the disaster will mean a serious setback in the campaign to recapture public trust.
"Politically, this will slow down nuclear," says Rep. Mike Simpson (R-Idaho), a co-chair of the Nuclear Issues Working Group. "It might make it harder for new nuclear facilities to get loan guarantees. It might slow down the effort push more nuclear power out the door. That's just being realistic."
The working group, a bipartisan coalition of five-dozen lawmakers supportive of the industry, has been seeking to relaunch after losing about 15% of its membership in the midterm elections. On March 9, two days before the magnitude 8.9 earthquake struck off the northeastern coast of Japan, organizers of the group circulated a letter to their colleagues inviting them to join. Members of the group "realize that clean and efficient energy technologies help offset fuel imports, expand our domestic economy and provide clean, inexhaustible energy supplies for millions of the Americans," the letter said.
For now, that recruitment effort is on hold, and the industry and its boosters in Congress are focused on playing defense. Top short-term priorities include protecting $36 billion in new loan guarantees for nuclear plant construction that President Obama included in his budget request, and making sure Republican fiscal hawks don't set their sights on federal research funding for nuclear technology.
Since the crisis started unfolding in Japan, the industry's lobbying machine in Washington has leapt to contain the political fallout, hosting briefings for lawmakers and staffers on both sides of the Capitol. With lawmakers back home in their districts for the Congressional recess this week, industry lobbyists are urging those near nuclear power plants to pay them a visit to learn about safety upgrades, Roll Call reported.
The industry hasn't spared much expense in the hunt for goodwill inside the Beltway. The Nuclear Energy Institute, the sector's lead trade group, spent $6.1 million on lobbying over the past three years, including for outside help from former Rep. Robert Walker, a Pennsylvania Republican who chaired the House Science Committee in the mid-1990s.
NEI's members have spent many millions more. Duke Energy (DUK, Fortune 500), for example, shelled out $17.5 million on lobbying over that time period; Exelon (EXC, Fortune 500) spent $12.7 million; and NRG (NRG, Fortune 500) spent $4.2 million, according to figures from the Center for Responsive Politics. The industry has also been a generous source of campaign cash for lawmakers. Exelon alone doled out more than $1.9 million in contributions over the last two election cycles.
And reflecting the industry's sophistication in playing the Washington game, its lobbyists have struck on more creative, if less costly, means of building relationships. As recently as 2006, NEI sponsored the team that House Energy and Commerce Committee staffers assembled to compete in a Congressional summer-softball league.
Those investments will be put to the test in the coming weeks and months as policymakers weigh their support for nuclear power against a potential public backlash. President Obama and his team made clear last week that they still view nuclear power as a critical component of the nation's energy mix and will continue to back new plant construction.
But in an appearance on Fox News Sunday, Energy Secretary Steven Chu allowed that the location of any new reactors will face tougher scrutiny -- and safety at existing plants will get a fresh look. In particular, Chu said the administration will be reviewing evacuation plans for Entergy's facilities at Indian Point, which sits 35 miles north of New York City.
The Japanese disaster revived concerns about its vulnerability to an earthquake, and New York Governor Andrew Cuomo has called for its closing. More than 20 years ago, it was Cuomo's father, Mario, who oversaw the shuttering of the Shoreham plant based on similar fears.
"My experience with nuclear power has been informed by Shoreham, but I don't believe in extremes on either side," says Israel. "We've got to be reasonable and strategic about the deployment of nuclear power."