Has Ford finally ditched the econobox?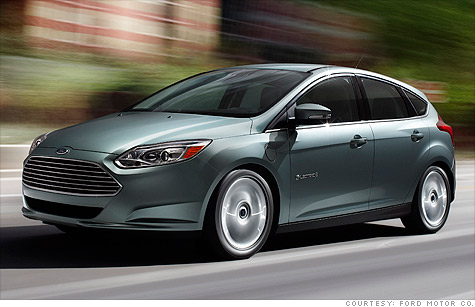 FORTUNE -- For a fresh clue about whether Ford has left its bad old days in the dust, take a test drive in the 2012* Ford Focus and be prepared for a pleasant surprise.
Ford (F, Fortune 500), which narrowly avoided bankruptcy two years ago, this week kicked off production of its new compact car in a converted truck factory in Wayne, Michigan. The new model, which competes directly against models like the Honda Civic and Chevrolet Cruze, is likely the best small car Ford ever has sold in the U.S.
At a minimum, this Focus is a refreshing departure from Ford's Escorts, Topazes and Contours of yore.
The new Focus is a dramatic improvement over the Focus it replaces. Shoppers who were justifiably unimpressed with the previous version could find the new one a departure. The exterior is handsome, the sheet metal fit craftsmanlike, the feel solid.
Over three days of city and highway driving, I covered about 250 miles in the Focus's top-of-the-line Titanium version, equipped (as all versions are) with a two-liter four cylinder engine. The test model, with six-speed automatic transmission, included several electronic options, such as voice-activated navigation. The MyFord Touch touchscreen and Ford Sync infotainment system generally worked well.
On one occasion Focus's rear-view backup camera was frozen on screen while the system rebooted -- but, hey, who owns a computer that never has crashed?
The vehicle handled, braked and cornered competently, and although it couldn't be described as powerful, the acceleration certainly was sufficient to impart a feeling of confidence on the freeway. Focus averaged more than 30 miles per gallon, which is a fair trade-off for excess horsepower at a time when gas prices are approaching $4 a gallon.
Sticker price for the well-equipped Titanium is about $25,000. The high-end Focus isn't inexpensive, yet it feels and looks like a premium car, with lots of amenities like leather upholstery and push-button start that buyers would expect to see in a luxury car. (The entry-level version, with a five-speed manual transmission, starts at just under $17,000.)
"Lots of shoppers are moving to smaller vehicles because of gasoline prices and for reasons of conservation," said Said Deep, a Ford spokesman. "They expect, and should get, the same kinds of features they had in the bigger vehicles they're trading in."
Oddly, Ford has manufactured high-quality, well-regarded small cars for European customers for some time, choosing to build cheaper, flimsier versions for the U.S. That strategy not only handed share of the U.S. market to Toyota and others, it required Ford to have separate marketing, engineering and manufacturing organizations for each continent.
Alan Mulally, Ford's CEO, declared "One Ford" as the company's credo after taking over in 2006 and set about harmonizing product development. Ford had tried for "world" cars before and failed.
Ford's advertising agency, Team Detroit, undertook a global marketing campaign for Focus, using social media to build awareness prior to the launch.
"We selected 40 social media practitioners and gave them each a Focus to test at a test track in Spain," said Paul Venn, executive vice president of Team Detroit, Ford's advertising agency. The videos were distributed via Facebook, Twitter and other social media platforms.
Henceforth, Ford will take advantage of global economies of scale when developing new vehicles and marketing them. Time will tell whether Focus catches on, but early reviews suggest that the model's buzz is positive, given the number of views and the tenor of comments from videos shot on the test drive.
If Focus wins some important awards, be sure to credit YouTube with an assist.
*Editor's note: An earlier version of this story referred to the new Focus as the 2011 model year. It is the 2012. The sentence has been corrected.