Zero G on Ford's factory floor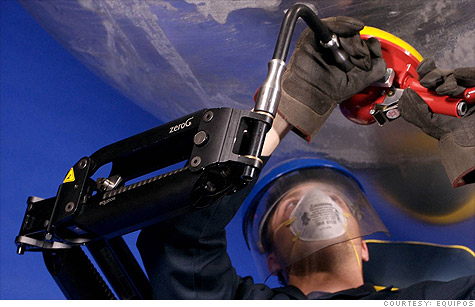 (CNNMoney) -- Building things like airplanes and cars takes heavy lifting for both workers and their employers: Injuries from overexertion cost U.S. companies more than $13 billion each year. Enter a Garrett Brown, an inventor who wants to revolutionize factory work the same way he revolutionized Hollywood back in 1976.
That's when he unveiled the Steadicam, a stabilization arm that eliminates jolts and shocks from camera movement. Using the same fundamentals that drive Steadicam technology, Brown invented a "zero gravity" industrial arm that attaches to heavy tools like riveters and grinders, making them effectively weightless for their human operators.
Brown teamed up with former Panavision executive Eric Golden, who recently brought the technology to market through Equipois, a Los Angeles startup.
"You can have something that weighs 25 pounds and move it with your fingertips, as if you're in space," Golden, 42, says enthusiastically.
Equipois' "zeroG" devices -- roughly the size of human arms -- are made of aerospace-grade aluminum and steel, come in two sizes, and require no outside power to operate. Instead, they simulate weightlessness by creating a counterbalance: each arm uses a large spring that pulls upward with constant force on a tool.
"The actions cancel each other out," Golden explains. "When the arm holding the tool moves, the position of the end of the spring changes to compensate for the movement. That's 20 pounds of lift on a 20-pound tool, no matter where it's positioned."
The zeroG arm uses a gimbal -- a structure to hold the tool in place while allowing it to rotate freely -- so factory workers can manipulate familiar tools the way they always have. And the arms can be mounted almost anywhere: on walls, tables, floors or mobile carts.
Although Brown developed the actual device, the idea originally came from an industrial engineer at Honda, who approached him in 2006 to ask whether Steadicam arms could be used to hold tools. Not long after, Brown and Golden met at an entertainment industry trade show. Golden wanted to find new uses for Hollywood technology -- bringing techniques from "The Industry" to heavy industry -- and believed that a Steadicam-style arm could meet a critical need on factory floors.
In early 2007, with $2 million from friends and family, Golden launched Equipois, with Brown as his top inventor and consultant. After three rounds of venture funding, Golden has raised an additional $10 million.
Equipois began selling zeroG arms three years ago to major manufacturers that now include Ford, Boeing, John Deere and the U.S. Navy. The company has 22 employees and at the end of 2010, annual sales hit $1 million. The larger arm costs about $10,000, and the smaller one goes for $5,000. The devices aren't cheap, but Golden says his customers report productivity increases of 30% to 50% percent.
"Because it uses no electricity -- just springs -- it's actually much cheaper than our current method of tool support," says Allison Stephens, a technical specialist at Ford Motor Company (F, Fortune 500) who manages the manufacturer's assembly ergonomics worldwide. Ford uses 10 zeroG arms to assist the human operators running high-torque tools to secure car parts.
"We selected jobs that had difficulties because of heavy tools, and operators who had medical visits because of that," Stephens says. "We've seen some great results -- no injuries when the arms are used. We are going to incorporate it into our engineering strategy."
James Mallon, a vice president at Humantech -- an Ann Arbor, Mich., management consulting firm focused on ergonomic engineering -- calls the zeroG arm "revolutionary."
In ergonomics, the concerns are high force and repetition. "Equipois' arm completely removes the force, but doesn't inhibit a tool's use," Mallon says. "That's hugely innovative."
Golden says his biggest challenge so far has been the global recession. "We started out slower than we could have, and there was a period a year ago when big manufacturers just weren't spending money, no matter what the investment," he says.
"We tried to get companies to try one arm, even if they really needed 20, because in 2009 it was difficult to get the money to buy any. We wanted each customer to have at least one success story from using it," he recalls. "When they started coming out of the recession, they'd know where to put their money."
Now the money is finally starting to loosen up. Golden can't wait for his customers to ramp up their capital spending: "I really feel like we're going down the right path," he says. "I would grow faster if I could."