War in an age of deficits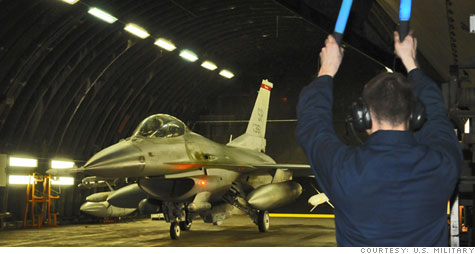 Lawrence Korb, a former assistant secretary of defense in the Reagan administration, is a senior fellow at the Center for American Progress. Laura Conley is a research associate at the center.
For now, Defense Secretary Robert Gates has the money he needs to fund military operations in Libya from existing coffers. This is a short-term strategy that will sustain a relatively low-level of U.S. expenditures.
But if our intervention in Libya drags on, Gates will be forced to examine other options to support combat pay, munitions, fuel and the other costs of war.
With a raging federal budget deficit, an already astronomically high level of defense spending and five months of continuing resolutions to fund current year Pentagon costs, this will not be a simple task.
The Pentagon has two options for funding contingency operations like Libya. First, it can rely on funding already appropriated by Congress. Defense officials don't count on operations such as the one in Libya when they prepare their budgets, but they have enough flexibility to cover such costs in a limited way.
Once existing funds grow tight, however, the Pentagon will be forced to seek an emergency supplemental funding bill from Congress in order to continue its contributions to the no-fly zone. This is how Congress has funded the wars in Iraq and Afghanistan; the money comes on top of the regular Defense appropriation, which this year exceeds $500 billion.
Thus far, there are no indications that the Obama administration is preparing to make a supplemental funding request.
All of this comes at a time of exceptional unrest in the domestic defense budget process. Hard as it may be to believe, it's not yet clear how much money the Pentagon will be allowed to spend this year. The fiscal year is nearing its half way point, but Defense and other federal agencies are drawing their funds from a series of short-term spending measures.
Defense stands to gain billions in extra funding if its fiscal 2011 request is approved, but operations in Libya cannot be sustained on the uncertain hope of congressional compromise.
In fact, Congress cannot be entirely condemned for its failure to finalize the fiscal 2011 budget. With the federal debt at 62% of GDP last year and the 2011 budget deficit projected to reach a record $1.5 trillion, policymakers are facing a particularly unforgiving fiscal environment.
While many in Congress have tried to place the defense budget off-limits to spending cuts, at 50% of the discretionary budget and 20% of the overall federal budget, any meaningful effort to pare spending cannot overlook the Pentagon, particularly at a time when Defense is taking on additional responsibilities in Libya.
One other option for offsetting the cost of operations in Libya is to depend on financial, rather than simply strategic, burden sharing with our allies. This model was used successfully in the first Persian Gulf War.
Most of the costs of the first Gulf War "were offset by allied contributions or were absorbed by DOD [and] net costs to U.S. taxpayers totaled $4.7 billion in current year dollars," according to the Congressional Research Service.
Unfortunately, the United States likely cannot count on the same degree of assistance in Libya because the international coalition is still struggling to define its endgame and allied partners are entering periods of austerity in their own defense budgets.
Spending should not drive military strategy. But as the nation moves forward with operations in Libya, questions of how these actions will affect our fiscal health will and should be unavoidable.
If handled correctly, these discussions should spark a national conversation about existing levels of defense spending, the tools needed to fund contingency operations in an increasingly dangerous world and the necessity of undertaking those operations in the first place.