How to make money from rising food prices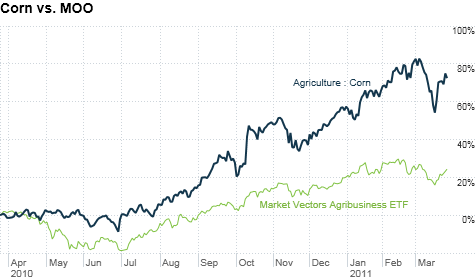 NEW YORK (CNNMoney) -- While the Federal Reserve claims that inflation remains low, your grocery and restaurant bills have probably convinced you otherwise.
But you don't have to take the hit on your wallet lying down. The recent spike in food prices is part of a longer-term trend that investors can profit from: soaring prices for agricultural commodities.
Corn and wheat prices, for instance, have nearly doubled in the last year, while soybean prices are up 40% and sugar prices are 65% higher.
While some of the gains are a result of lackluster harvest seasons due to bad weather, prices are also getting a boost as demand for food increases thanks to the rising global population and growing middle class, particularly in emerging markets like India and China.
"As developing economies grow at higher rates, people are migrating up the food chain and eating more meat, which puts upward pressure on demand for feed grains," said Joe Milano, portfolio manager of the T. Rowe Price New America Growth Fund (PRWAX).
In fact, the Food and Agriculture Organization estimates that food production has to increase by 70% by 2050 to keep up with surging demand.
To improve their yields, Milano says farmers will likely turn to companies like seed giants Monsanto (MON, Fortune 500) and DuPont (DD, Fortune 500), and fertilizer producers Potash Corporation of Saskatchewan (POT), CF Industries (CF) and Mosaic (MOS, Fortune 500).
Milano also likes companies that manufacture irrigation systems that conserve water and improve food production, like Valmont Industries (VMI) and Lindsay Corp (LNN).
Of course, rising food prices are no secret. Many of the stocks Milano highlighted have already had a decent run. But he thinks the agricultural group has more upside ahead.
"There's not much more supply of fertile land, so to manufacture more food, we have to make the tracts of land we have more productive," said Milano. "That means using genetically modified seeds that withstand insects and droughts better, providing the right nutrients to soil and irrigating better."
Plus, more and more corn produced in the United States is being used to meet demand for ethanol production, which in turn compromises even more land that could be producing crops for food. That will continue to benefit the companies over the longer-term.
For easy exposure to a basket of the major fertilizer companies and other firms that benefit from agricultural demand, Cumberland Advisors chief global economist Bill Witherell likes the Market Vectors Agribusiness ETF (MOO). The fund's biggest holdings are Deere & Co. (DE, Fortune 500), Monsanto, Potash and Mosaic.
Witherell is also a fan of investing directly in agriculture commodities like corn, wheat, soy beans and sugar with a stake in the PowerShares DB Agriculture Fund (DBA). But investors need to be careful since many commodities have shot up even higher than the stocks of fertilizer makers.
Agricultural companies and commodities aren't the only way to take advantage of surging food prices either. Some experts think consumer staples companies, which have been underperforming the broader market, also stand to benefit.
Consumer giants like PepsiCo (PEP, Fortune 500) are still squeezing their profit margins to cope with higher input costs, but eventually they'll pass them along to consumers.
Over time, high prices will lift the companies' profits and their stocks, said John Toohey, vice president of equity investments with USAA Investment Management Company in San Antonio.
"Agriculture companies have had a pretty good run with the market, but consumer staples stocks aren't reflecting the forthcoming higher prices," Toohey said.
Kraft (KFT, Fortune 500), Smuckers (SJM), General Mills (GIS, Fortune 500) and Heinz (HNZ, Fortune 500) have recently announced plans to hike prices on some of their products. But experts say shoppers should be ready to brace for even higher food prices.
"The actual impact of higher grain prices has been pretty limited on consumers, but we think it's coming," said Patricia Mohr, economist and commodities market specialist at Scotia Capital in Toronto.
In the last year, food prices have climbed just 2.3%, according to the government's latest Consumer Price Index.
But Toohey said investors will have to watch to see how the higher prices will impact sales and consumer spending. If companies raise prices too aggressively and shoppers cut back, consumer staples firms could wind up getting hurt.