Consumer prices up 2.1% in past year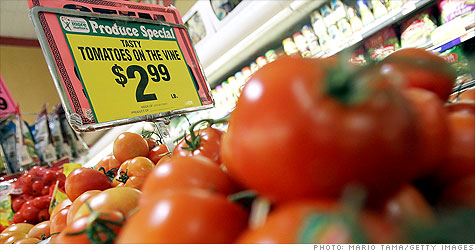 NEW YORK (CNNMoney) -- Food and energy prices are surging. Still, underlying inflation remains low, the government said Thursday.
The U.S. Consumer Price Index, a key measure of inflation, increased 2.1% over the past 12 months ending in February, up from 1.6% in January, the Bureau of Labor Statistics said Thursday.
That was the fastest rate since April 2010, when prices were coming back from a year of recession lows.
Consumers were hit hardest by rising prices at the gas pumps and grocery stores. Energy prices surged 11% over the 12-month period. Food rose 2.3% -- its largest increase since May 2009.
Those categories have surged since January, driven by geopolitical conflicts in the Middle East and North Africa. In a recent CNNMoney survey, economists identified the oil spike as the single biggest challenge facing the nation's economic recovery.
Rising oil prices have a broad-based effect on the American economy, not just because they shrink the cash in consumers' wallets, but also because they increase production and shipping costs for businesses. As businesses grapple with those costs, they could hold back on hiring for new jobs.
Grocery stores and gas stations have so far, been able to pass their rising costs on to consumers, because food and gas are considered daily necessities, said Sal Guatieri, senior economist with BMO Capital Markets.
But the jury is still out on whether other retailers will be able to raise prices.
Striping out food and energy, consumer prices barely changed in February. The so-called core CPI rose 1.1% year-over-year, up from a 1% rate in January.
That said, production costs rose 1.6% in February alone, the biggest jump in nearly two years. That could mean more broad-based price increases later in the spring.
"Costs are going up on things that we tend to buy frequently," Guatieri said. "The key issue now is whether we'll see a more generalized increase."
Overall, the numbers were mostly in line with expectations. Economists surveyed by CNNMoney had expected a 2% rise in overall consumer prices over the past 12 months and a 1.1% rise in core CPI.
On a monthly basis, the overall CPI rose 0.5% in February, up from 0.4% the previous month. Core CPI rose 0.2% in February, unchanged from January.