How to get in on the natural gas rebound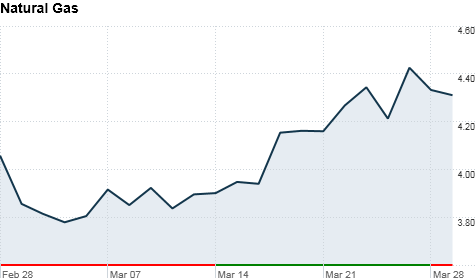 NEW YORK (CNNMoney) -- Natural gas futures have jumped more than 13% since early March, fueled by a long stretch of unseasonably cold weather across the United States and Japan's nuclear crisis.
Japan's nuclear issues renewed talk of natural gas becoming a viable alternative to nuclear power. The reality may still be a ways off but just the mere mention is helping boost natural gas prices.
And investors have several options if they want to ride the wave.
The best way for an average retail investor to play the natural gas market is to invest in companies tied to natural gas, say fund managers.
Shares of companies such as Chesapeake Energy (CHK, Fortune 500) and Petrohawk Energy (HK) have surged 20% from the start of the year.
Natural gas companies also own oil shale fields, a product that has been increasingly attractive with $100-a-barrel oil prices.
For a broad natural gas investment, Magoon Capital Chief Executive Christian Magoon recommends part-commodity and part-company exchange-traded funds such as First Trust ISE Revere Natural Gas ETF (FCG) or S&P Oil & Gas Exploration & Production SPDR (XOP). That gives the average retail investor exposure to both equity and commodity parts in the sector.
If investors dare to play directly in natural gas futures, there are two exchange-traded funds that invest directly in natural gas futures: the US 12 Month Natural Gas Fund (UNL) and the month-to-month US Natural Gas Fund (UNG).
The difference between the two is the 12-month fund invests in a basket of a year's worth of natural gas contracts while the other invests only in the most actively-traded monthly contract. The 12-month fund tends to be less volatile.
But not everyone is jumping on the natural gas bandwagon.
"Long-term there is a huge opportunity for natural gas, but the recent strength is ignoring the fact we have a massive glut of natural gas supplies on the market," said Harry Rady, CEO of Rady Asset Management and a long-time investor in the natural gas sector.
Natural gas overproduction has been the biggest drag on the commodity since at least 2008. The U.S. Energy Department said natural gas stockpiles fell to 1.61 billion cubic feet last week, but stockpiles still remain at the high end of the five-year historical range for the commodity.
And because oil companies typically produce gas while drilling for high-priced crude, oil companies have had little reason to stop putting natural gas onto the market.
"Like any commodity, you really have to be studying the natural gas markets all the time," said Robert Yawger, senior vice president for energy futures for MF Global.