Why can't U.S. automakers build a good small car?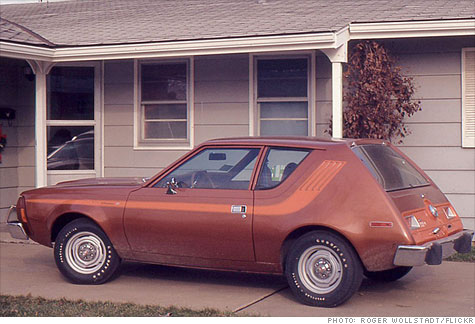 FORTUNE -- Small cars are the opening bet in becoming a truly global automaker -- and the Detroit Three have been bluffing for 40 years. They have promised to deliver a superior product again and again, but have never succeeded.
This year, they are trying a new way. General Motors (GM) is launching the Chevy Cruze and Sonic, Ford (F, Fortune 500) has come out with the Focus and Fiesta, and Chrysler will debut the Fiat 500. With gas prices going up and up, success is becoming more urgent.
Already there are some disquieting signs. In its May issue, Car & Driver ranks the Cruze fourth out of five small cars tested and awarded the backhanded compliment that Chevrolet had made a competitive small car "just as the segment turns into a master class." The Focus was judged the best of five cars tested, but it was developed at Ford of Europe, not in Dearborn.
The Detroit Three's frustration goes all the way back to the early 1970s, when they first tried to make good on Henry Ford II's promise to push small imports "back into the sea." The three small cars that were launched for the 1971 model year were all seriously flawed in one way or another.
Tiny American Motors went first in April 1970 when it introduced the Gremlin. AMC operated on pennies, so its chief stylist merely cut off the tail of an existing AMC model, producing a sketch (according to urban legend) on a Northwest Airlines airsickness bag. There was no time or money to develop a four-cylinder engine either, so the Gremlin got a heavy straight-six instead. The combination of a long hood and sawed off rear end produced a small car with practically no room inside. There was less space behind the back seat than in a rear-engine Volkswagen Beetle.
The Gremlin was initially priced at under $2,000, and AMC sold thousands of them before halting production in 1978. It wasn't enough to save the company; AMC suspended production of most models in 1983 after Renault bought a majority stake in the company and it was then swallowed up entirely by Chrysler in 1987.
Next out was the Chevrolet Vega, a classic example of GM's engineering snafus and corporate infighting of the era. With Chevrolet and Pontiac working independently on their own small cars, an aggressive EVP commandeered corporate engineering and design staffs, and then sold his own proposal to the board of directors, by passing the divisions. Instead of naming the car the Gemini (GM-mini -- get it?) as research suggested, he convinced them to call it the Vega.
It was a bad omen. An orphan from its inception, the Vega was rushed through development in two years, and then given to Chevrolet to sell. "From the first day I stepped into Chevrolet, the Vega was in trouble," said division head John Z. DeLorean. "Engineers are a very proud group. They take interest and pride in their designs, but this was not their car and they did not want to work on it."
Like a lot of GM projects, Vega promised big but never delivered. (Full disclosure: I bought a green Vega in 1973 because I liked its look, but I totaled it before suffering any major mechanical malfunctions). The Vega was designed with some complexity so it could be shipped nose down on railroad cars but, according to reports, it never was. It was built at an unusually fast pace by a disaffected workforce, with predictable results. And in its rush to the market, fundamental engineering mistakes were made. Design flaws led to rust-prone fenders, leaky carburetors, and overheating engines that caused the cylinders to warp. Instead of winning over import car buyers, the Vega sent longtime GM customers fleeing.
GM hurried the Vega into production so that it could beat the Ford Pinto to the market. It didn't need to bother. Dogged by worries, some unfair, about the safety of its gas tank, the Pinto had a troubled nine-year existence and, like the Vega, became the punch line for jokes.
Ford Division president Lee Iacocca wanted a small car for 1971 that weighed less than 2,000 lbs and cost less than $2,000, and he got it. To save money, the gas tank was located between the bumper and the rear axle, meaning that in a rear-end collision, the tank could spew gas after being punctured by bolts in the differential or separated from the fuel filler neck.
The tragic consequences of this design came to the fore in a 1972 accident. A Pinto had stalled in the center lane of a California freeway and was rear-ended by another car going 30 miles per hour. The collision and resulting fire killed the driver and left the passenger with burns over 90% of his body. Ford was accused of cold-heartedly calculating that it was cheaper to settle lawsuits from collision injuries than to fix the car. It eventually paid $6 million in damages and modified the Pinto by fitting a longer filler neck and devising a plastic shield to protect the gas tank.
In a paper delivered in 1990, a Rutgers law professor argued that Ford and the Pinto got a bad rap. He produced data showing that the fatality rate in Pintos was comparable to the Vega and Gremlin, and far better than Toyotas (TM), VWs, and Datsuns of the era. And although prominent critics had referred to hundreds of deaths and thousands of injuries from Pinto fires, he could only document 27 deaths and 24 non-fatal injuries. He didn't let Ford off the hook, however. He concludes that $9 in parts would have made the Pinto safer, and that Ford omitted them to save money.
Four decades later, nobody is creating cars with a chainsaw, or trying to build them on a speeded-up assembly line, or ignoring basic safety precautions to save money. But proficient as they are with pickups and SUVs, the Detroit Three never mastered the art of creating an appealing small car. They got a bad start 40 years ago and are still trying to catch up.