Hyundai won't buy your car back anymore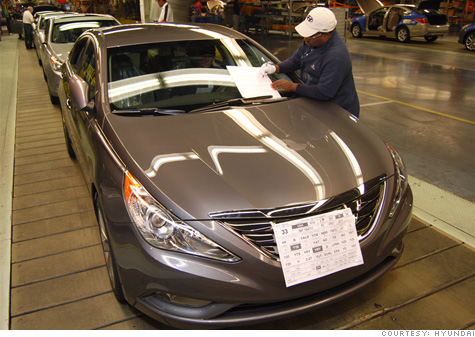 NEW YORK (CNNMoney) -- No more Mr. Nice Guy. After Wednesday, if you buy a new Hyundai then lose your job within a year, you're just going to have to keep the car.
Hyundai is ending its car buy-back program, instituted at the beginning of 2009, under which the South Korea-based automaker offered to buy back the car from any Hyundai owner who suffered involuntary loss of employment within one year of purchasing it.
Under the program, Hyundai paid the difference between the car's trade-in value at the time the owner filed to return the car and any remaining balance on the auto loan up to a maximum of $7,500.
During the life of the program, 350 people took advantage of the buy-back offer, Hyundai spokesman Jim Trainor said.
The program just wasn't piquing consumers' interest the way it once did. Few customers cited it as a reason for visiting a Hyundai dealership, Trainor said.
When the program was instituted, the economy was in recession and auto sales were at the lowest levels in decades.
"It's a sign that the economy is may be improving a little, knock on wood," Trainor said of Hyundai's decision to end the program.
Thanks in large part to the buy-back offer, which formed the core of something the automaker called the "Hyundai Assurance" program, Hyundai was one of only a few automakers to sell more vehicles in 2009 than it did the year before.
Hyundai sold 435,000 vehicles that year, an 8% increase at time when almost all other automakers were posting sharp declines.
Following Hyundai's announcements, other automakers, including General Motors, tried similar programs but none had the success that Hyundai did.
The marketing team that created the program, former Hyundai marketing chief Joel Ewanick and his successor at that post, Chris Perry, now both work at GM. Ewanick heads GM's global marketing and Perry heads marketing for the U.S.
Hyundai will still use the name "Hyundai Assurance" to refer to its warranty and roadside assistance programs.