Job growth could be good for Obama's job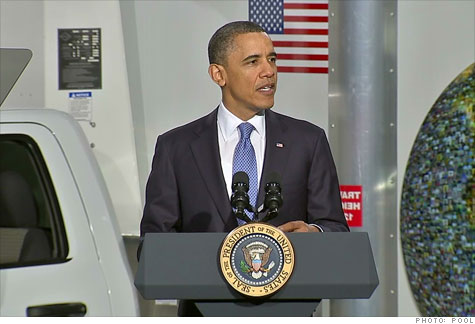 WASHINGTON (CNNMoney) -- A pickup of 216,000 jobs in March is good news for President Obama's bid to keep his own job.
With unemployment edging down to its lowest level since March 2009, President Obama is well-poised to take some credit and enjoy the political after-glow of job growth, political experts say. The unemployment rate dropped to 8.8%, an entire percentage point lower than it was four months ago.
"It's all about the economic psychology, and if people think the economy is getting better and is going to get better, that would give the president a huge boost to his re-election," said political analyst Stuart Rothenberg, editor and publisher of the Rothenberg Political Report.
But fall 2012 remains more than a year away. And many households may not feel their own financial bottom lines improving, says Washington political strategist Kevin Madden, who worked for 2008 Republican presidential candidate Mitt Romney.
"Is it enough to where people are feeling a difference in their daily lives? I'd suspect right now, it's not," Madden said. "Any sliver of good news right now is still being hurt by the tremendous amount of anxiety about government spending and deficits."
Nevertheless, a barrage of press statements from Democrats started flying after the Friday release of the report, praising the job growth numbers and crediting Democratic policies.
"For two years, President Obama and Congressional Democrats took bold steps to get our economy back on track -- and today's report is a sign that our actions have moved our country in the right direction," said House Minority Leader Nancy Pelosi said in a statement.
"This sign of jobs growth shows the President's economic plan is starting to work," said Sen. Charles E. Schumer of New York.
Even Obama jumped on board Friday, noting the economy is "showing signs of real strength." But he added that it needs to get better.
"I will not be satisfied until every American who wants a good job can find one; until every family gets a shot at the American Dream," the president said in a speech in Landover, Md.
Meanwhile, Republicans stressed that the numbers aren't good enough.
"Any improvement in the jobs picture is welcome news for the country, but Washington needs to do more to end the uncertainty plaguing job creators," House Speaker John Boehner said in a statement. Doing more, he added, meant such things as cutting spending, reducing regulations and approving trade agreements.
Republican National Committee chairman Reince Priebus echoed that statement, calling the job growth a "welcome sign," but adding that "today's jobs report shows that unemployment remains unacceptably high."
While White House economic adviser Austan Goolsbee cautioned against reading "too much" from a monthly report, he noted that the unemployment rate drop is the largest decline since 1984.
"The steep decline in the jobless rate and the solid employment growth in recent months are encouraging," Goolsbee added.
Political strategists and academics say that job growth should give a big boost to the administration's political prospects in 2012.
"It's more important than what's happening in Middle East because the economy is the key issue in the minds of voters," said Alan I. Abramowitz, a political science professor at Emory University in Atlanta."If the economy continues to exhibit decent growth and unemployment comes down another point or so, Obama should be in good shape for re-election regardless of who wins the Republican nomination."
Julian Zelizer of Princeton University in New Jersey also said job growth is the "best thing that can happen for Democrats," and that continued job growth opens the door for an easy victory for Obama next year.
"The ultimate determination for many voters will be--is the economy doing better or not," said Zelizer, a CNN.com contributor and professor of history and public affairs. "If it is, that will give Obama the kind of boost that, combined with being an incumbent president, undercuts any chances for Republicans to win."