Strong jobs report pushes stocks higher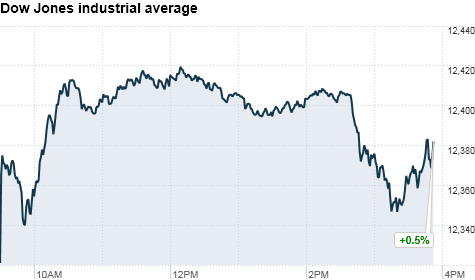 NEW YORK (CNNMoney) -- U.S. stocks rose moderately on Friday, the first day of the second quarter, bolstered by the government's stronger-than-expected jobs report.
The closely watched report showed the U.S. economy created 216,000 jobs in March -- easily topping forecasts -- and the unemployment rate dipped to 8.8%.
At the preliminary close, the Dow Jones industrial average (INDU) climbed 56 points, or 0.5%, to 12376; the S&P 500 (SPX) added 6.5 points, or 0.5%, to 1332; and the Nasdaq Composite (COMP) rose 8.5 points, or 0.3%, to 2790.
Friday's gains were broad, with 23 out of the Dow's 30 members ending higher on the day. The Dow now stands near its 52-week high, a sign of how well this market continues to perform despite the problems abroad, investors said.
"These mildly positive economic reports are going to keep the market moving higher, despite high oil prices and ongoing geopolitical issues," said Stephen Carl, head equity trader with Williams Capital.
Friday's jobs numbers are the latest economic data to show that the U.S. economy remains in a slow, but steady, period of economic recovery. While still elevated, the unemployment rate now sits at its lowest level in two years.
"We are doing modestly better than what most had expected, but the economy is far from perfect," said Bruce McCain, chief investment strategist at Key Private Bank.
Investors were also digesting a new offer for the NYSE (NYX, Fortune 500) from Nasdaq (NDAQ) and IntercontinentalExchange (ICE). Nasdaq and ICE offered $42.50 a share for NYSE Euronext, topping the bid from rival Deutsche Boerse by nearly 19%. Shares of NYSE jumped 13%, Nasdaq shares closed up 9% and ICE shares fell 3%.
On Thursday, U.S. stocks ended the day narrowly mixed, but the first quarter finished with solid gains despite geopolitical turmoil in the Middle East, and the March earthquake and nuclear crisis in Japan.
Companies: Shares of Krispy Kreme (KKD) plunged 21%, a day after the doughnut marketer reported earnings that came in well short of analyst expectations.
Office Depot (ODP, Fortune 500) shares sank 9% after the office supply retailer disclosed that it will have to restate its 2010 financial results after the IRS denied a claim for $80 million in tax benefits.
Ford (F, Fortune 500)'s monthly U.S. auto sales surpassed General Motors' (GM) for the first time since 1998.
Economy: The Institute for Supply Management said its manufacturing index fell slightly to a reading of 61.2 in March, compared with the 61.4 reading that economists had expected.
The Commerce Department's report on construction spending showed a decline of 1.4% in February, worse than the decline of 0.7% economists were looking for.
World markets: Asian markets ended mixed. The Shanghai Composite rose 1.3%, and the Hang Seng in Hong Kong added 1.2%. But Japan's Nikkei eased 0.5%, after a report showed auto sales in the nation plunged 37% in March.
European posted solid gains. Britain's FTSE 100 rose 1.7%, the DAX in Germany gained 2% and France's CAC 40 climbed by 1.6%.
Currencies and commodities: The dollar rose against the euro, the Japanese yen and the British pound.
Oil for May delivery rose $1.40 to $108.12 a barrel.
Gold futures for June delivery slipped $11.20 to $1,428.10 an ounce.
Bonds: The price on the benchmark 10-year U.S. Treasury fell, pushing the yield up to 3.48% from 3.45% late Thursday.