House GOP: Cut $4.4 trillion and transform Medicare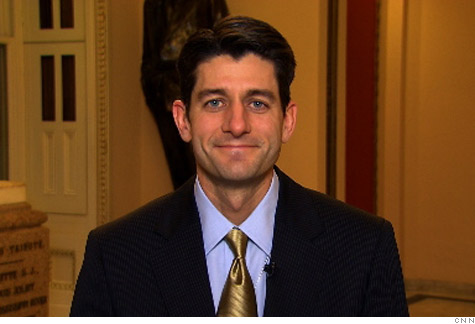 NEW YORK (CNNMoney) -- House Budget Chairman Paul Ryan on Tuesday will release the House GOP's 2012 budget proposal -- the first real indication of how House Republicans want to tackle the country's long-term budget shortfalls.
Ryan revealed key details of his plan in a Wall Street Journal op-ed published Monday night. He is expected to release a full plan on Tuesday morning.
"America is facing a defining moment," Ryan wrote. "The threat posed by our monumental debt will damage our country in profound ways, unless we act."
Reducing deficits: The measure would reduce the debt by $4.4 trillion over 10 years, Ryan estimates.
Budget resolutions are meant to be initial frameworks in a budget process that lasts for many months. And they are not subject to an official analysis or score by the nonpartisan Congressional Budget Office.
Reforming the tax code: The House GOP plan would reform the tax code without raising more money than the current system. It would reduce the number of income tax brackets, lower the top rate for individuals and corporations to 25% and eliminate many tax breaks.
Unlike the debt-reduction proposals from the president's bipartisan fiscal commission and two other highly regarded bipartisan commissions of outside experts, the House GOP proposal does not appear to call for any tax revenue to be used to explicitly reduce U.S. debt.
Putting the reins on spending: Ryan's plan would reduce federal spending to below 20% of the economy, Ryan said. That would be below the 20.7% average over the past 40 years.
And it would reduce spending on domestic government agencies to "below 2008 levels," at which spending would be frozen for five years. Ryan said that goal would be achieved in numerous ways. Among them: reducing agricultural subsidies, shrinking the federal work force and targeting inefficiencies at the Pentagon.
The GOP plan would introduce what Ryan calls "real, enforceable caps on spending -- to make sure government spends and taxes only as much as it needs to fulfill its constitutionally prescribed roles."
Reforming Medicare and Medicaid: The House GOP proposes to make major structural changes to Medicare and Medicaid.
Spending on these two entitlement programs is one of the biggest drivers of the country's future debt.
Starting in 2022, the House GOP resolution would convert Medicare -- the health care program for seniors -- into a voucher program, or what Ryan calls a "premium-support model."
Under such a system, seniors would choose from a Medicare-approved list of private insurance plans and the cost of their chosen plan would be subsidized in part by the federal government.
"The open-ended, blank-check nature of the Medicare subsidy threatens the solvency of this critical program and creates inexcusable levels of waste," Ryan wrote. "But because government should not force people to reorganize their lives, its reforms will not affect those in or near retirement in any way."
Without offering any details, Ryan added that under the House GOP proposal Medicare would provide "increased assistance for lower-income beneficiaries and those with greater health risks."
The resolution would also convert the federal government's payments for Medicaid -- the health program for the poor and disabled -- into a block grant to be allocated among states. Currently, federal payments to states are determined by a formula.
The fight ahead: Ryan's budget proposal is expected to generate a full-throated debate about the nation's long-term debt crisis -- the solutions for which bitterly divide Democrats and Republicans.
At the same time, Congress has been unable to agree to a budget for the current fiscal year, which began six months ago.
For their part, House Republicans are still divided over the magnitude of spending cuts for this fiscal year. Some lawmakers are pointing to the 2012 budget as the place where Republicans can offer the kinds of major spending cuts and reforms that the newest and most conservative members are miffed they are not getting in the 2011 fight.