Federal workers in shutdown limbo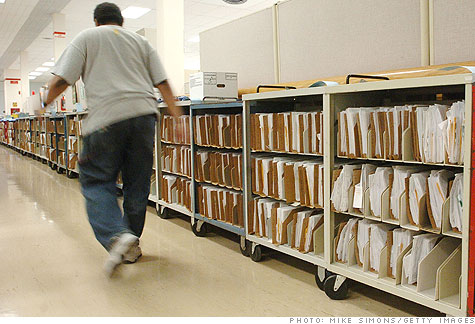 NEW YORK (CNNMoney) -- With just five days left before a government shutdown, federal workers are pressing lawmakers to cut a deal that will keep the government open for business.
The stakes are high. If lawmakers fail to pass some kind of spending bill by the end of Friday, hundreds of thousands of government employees are likely to be furloughed, and their paychecks stopped.
The National Treasury Employees Union and the National Federation of Federal Employees, which represent a combined 260,000 workers, announced Monday they have asked their members to call lawmakers and encourage them to strike a deal.
The goal is to make sure lawmakers understand the impact a shutdown would have on government workers, said William Dougan, president of the National Federation of Federal Employees.
In already tough economic times, "One or two missing paychecks could spell disaster for these families," Dougan said.
And the impact wouldn't stop there. Dougan warned of an economic ripple effect into communities across the country that depend on federal workers and the dollars they spend.
Just who are these workers? According to government data, average employees are likely to be in their mid-40s.
They work in management, business or financial positions at the Department of Defense, Veterans Affairs or Homeland Security.
They tend to have graduated from college, live outside of Washington and are white. They make around $74,000 a year.
And they are starting to feel a little picked on. Late last year, at President Obama's suggestion, Congress instituted a two-year freeze on federal worker pay.
At the same time, lawmakers have failed to enact a real budget six months after the fiscal year began. Instead they have passed six short-term spending bills that have left agencies uncertain about funding levels and struggling to perform their functions.
"In our view this is an untenable situation," National Treasury Employees Union President Colleen Kelley told reporters on Monday.
Workers are feeling the uncertainty. Shutdowns are not uncommon, but 15 years have passed since a battle over the budget resulted in workers being furloughed.
Here's how it would work: The government would keep essential services -- such as air traffic control and the national security apparatus -- in full operating mode.
Agencies go through a complicated process to decide which employees stay on the job, and which are asked to stay home. Each agency draws up its own plan.
But those plans have remained under wraps, much to the chagrin of Kelley and Dougan, who said agencies and the Obama administration are not communicating with workers.
"It seems absolutely, positively ridiculous," Dougan said. "I know the plans are there and I know the agencies have them."
The lack of information is making it difficult for employees -- who are facing the prospect of a pay stoppage -- to make contingency plans.
"It's disrespectful to hold these folks in limbo until the last minute," Dougan said.
Federal workers who are furloughed due to a shutdown usually receive back pay when Congress is able to pass a new spending bill. But lawmakers have to specifically authorize those funds, something that is not guaranteed.
The White House did not immediately respond to a request for comment. Press secretary Jay Carney was asked about a possible shutdown on Monday.
"[T]here are procedures in place since the 1980's for this kind of situation," Carney said. "There's nothing unusual that this government and administration are doing."
With talks continuing on Capitol Hill, lawmakers might beat the clock and reach a deal. They usually do. Negotiators have thus far focused on six-month bill that would fund the government for the rest of the fiscal year.
If that fails, they could always do another short-term fix -- the seventh this year.