China raises interest rates again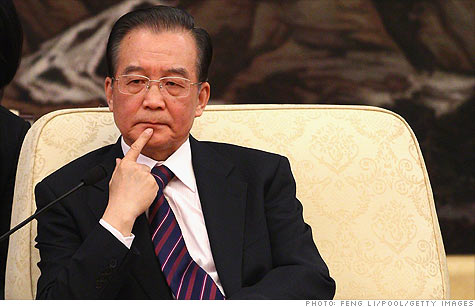 NEW YORK (CNNMoney) -- For the fourth time in six months, China's central bank is hiking interest rates to combat rising inflation in the country.
The People's Bank of China said Tuesday that it will raise its one-year lending rate to 6.31% from 6.06%, effective Wednesday.
China has raised interest rates incrementally over the last six months in an ongoing effort to tame rapidly rising prices there. Consumer prices surged 4.9% over the 12 months ending in February -- a rate far outpacing price increases in the United States and Europe.
As rising prices have barreled ahead, China's Premier Wen Jiabao has even likened inflation to a tiger. "Once it gets free, it is difficult to put it back in the cage," he told reporters last month.
The central bank has used several tools to ease rapid growth in China. Interest rate hikes are one tool -- but they may have topped out now at 6.35%, Mark Williams, senior China economist with Capital Economics, said in a research note.
China has also raised banks' reserve requirements several times as a way to pull money out of the economy, but still shies away from allowing its currency, the yuan to exchange completely freely against other currencies.
Over the last year, China's tightening has sparked fears that the Beijing government could squelch growth too much, causing the economy to crash land.
But inflation and the overall economy have continued to grow at a rapid clip, and now critics say the government's approach may actually be too slow.
"If anything, they're tightening a bit too slow. We have to be a little concerned about overheating, said Paul Ballew, a chief economist at Nationwide.
Either way, China's actions to rein in inflation stand in stark contrast to the Federal Reserve's stance on inflation in the United States. Federal Reserve Chairman Ben Bernanke still shrugs off fears of longterm inflation in the United States, stating that rising food and energy prices are merely a temporary phenomenon.
"In the last six months, we've seen a fairly substantial split between the Fed and other central banks around the world. The Fed takes a far more dovish approach, and we'll see whether or not that's a wise choice down the road," said Paul Ballew, chief economist at Nationwide.
Next, all eyes are on the European Central Bank, which plans to announce its latest monetary policy decision Thursday. Outside economists are expecting the bank to raise interest rates by a quarter of a percentage point, which would be the ECB's first rate hike since mid-2008.