I'm a 'non-essential' worker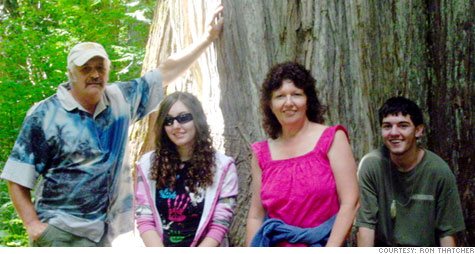 NEW YORK (CNNMoney) -- Ron Thatcher may not get paid next week because he's "non-essential."
Thatcher is one of 800,000 federal workers who could be collateral damage in the budget battle between Congress and the White House. If the two can't find a compromise by Friday, the federal government will shut down and leave employees without pay.
Most, like Thatcher, will be considered "non-essential" and told to stay home. Those who are deemed "essential" to the protection of human life and property -- get to come to work, but still don't get paid.
"We're just the workers, we're the first to go if a furlough hits," said Thatcher, 56. "It's frustrating when we can't do the job we need to do."
Thatcher works for the U.S. Forest Service, and he doesn't consider his duties as non-essential. "It definitely has a negative connotation to it," said the Libby, Mont., resident. "I've worked with the Forest Service over 30 years and I'm damn proud to be a Forest Service employee."
Most Forest Service workers manage a wide range of responsibilities. Primarily they maintain and preserve our national forests, all 193 million acres, which means protecting wildlife, water resources and preventing forest fires. As emergency responders, they were the ones called when Challenger exploded, after Hurricane Katrina hit and in the immediate aftermath of Sept. 11.
In Kootenai National Forest, where Thatcher works, forest service workers also protect the Canadian-U.S. border. "We're the eyes," he said.
But Thatcher is, by title, an engineer. His day-to-day responsibilities include inspecting bridge installations and overseeing road reconstruction projects, not to mention the logging and mining that sustains the economy in Libby.
Any disruption to those industries could have a serious negative impact on Libby, which has a population of 13,426 and an unemployment rate already over 19%.
In addition, a shutdown comes at the worst possible time for workers in Montana, where most forest service projects are just getting started. Many of the federal employees there only work between April and October and are paid for just 13 pay periods.
Thatcher is fortunate to work for the full year with an annual income of about $40,000, but money is tight.
His wife runs a cleaning business in town and they have two children, one a junior in high school and one a freshman in college at the University of Montana, where the tuition bill is about $18,000 a year.
"It is definitely going to hurt my family and being able to pay the bills that I have," Thatcher said. "I'm going to hope and pray that Congress understands what this decision really does to economically depressed areas such as the town that I live in."
Employees who work through a shutdown get back pay as soon as lawmakers reach a budget deal. The same is not true for non-essential employees, like Thatcher, who are furloughed.
For them, Congress has to take an extra step to authorize back pay. That's something lawmakers have done in the past, but there is no guarantee they will this time. After all, the last shutdown was 15 years ago.