6 months, 7 Band-Aid budgets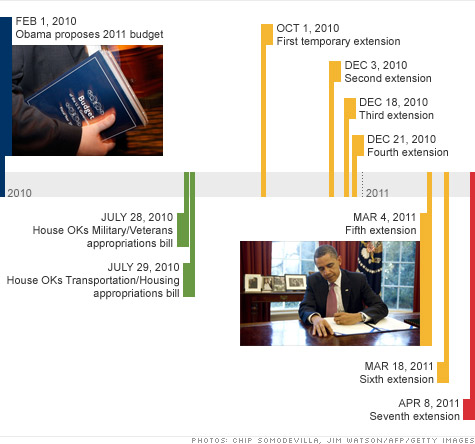 NEW YORK (CNNMoney) -- And on the 190th day of the fiscal year, Congress passed ... yet another temporary spending bill.
This one -- the seventh -- is billed as a bridge to a real budget that would set spending levels about $38 billion below where agencies started the year.
And it allowed Congress to narrowly avert a government shutdown.
But not before Congress -- with President Obama mostly just out of sight, occasionally scolding lawmakers to do a deal -- took the nation on a harrowing ride.
As even school children know, Congress has the responsibility to appropriate funds for the government to spend. It's right there in Article 1 of the Constitution. But this year -- and let's not mince words -- lawmakers fell down on the job.
Of course, short-term spending bills are nothing new. Congress has enacted at least one every year for all but three of the past 30. But seven in one year? How did it come to this?
President Obama first proposed a budget for fiscal year 2011 on Feb. 1, 2010. That was more than 14 months ago.
If the process worked as designed, Congress would have taken a look at the president's suggestions. Lawmakers on the budget committees would have set target spending levels, and appropriations committees would have hammered out spending plans to fit.
The result was supposed to be 12 separate appropriations bills. Congress would have voted on each, and moved them to the president's desk. That's all supposed to happen by Oct. 1, the start of the fiscal year.
Lots of talk, no action
Here's what Congress did manage to do: The House produced two of 12 appropriations bills. The Senate didn't vote on a single one. Lawmakers couldn't even agree on their own legislative budget.
And those two House votes? They happened way back in July, when Democrats had huge majorities in the House and Senate, with Obama in the White House.
Why Democrats failed to take more action when they had the chance remains somewhat of a mystery. Remember, this is the same Congress that moved heaven and earth to enact landmark health care and Wall Street reform laws.
In the absence of a full-year budget, lawmakers have instead passed seven short-term spending bills called "continuing resolutions." Designed to bridge short-term gaps in appropriations, Congress has approved one after another to keep the government running.
The budget punt has implications for effective governance.
Continuing resolutions, with the exception of the two most recent efforts by Congress, freeze spending at the prior year's levels.
That forces federal agencies into a head snapping game of stop-and-go. Hiring is delayed, work is repeated, and agencies struggle to implement new legislation. Uncertainty is king, with agencies left to guess what their funding level for the year might be.
Just ask the Securities and Exchange Commission, which is trying to implement the new Wall Street oversight law with last year's staffing.
Add in the threat of imminent government shutdown coming around, on average, once a month, and it's easy to see why agencies are praying the budget Merry-Go-Round stops soon.
As if to call attention to their own failure, both Republicans and Democrats spent months issuing high-profile calls for a return to responsible budgeting.
The latest stalemate had lawmakers veer toward the precipice as they argued over a few billion dollars and a set of contentious political issues -- like abortion -- that were inserted into the debate.
There were multiple White House meetings and hours in which earnest aides tried to reach an agreement.
What happens next? Congress has given itself another week to pass a budget and again avoid a shutdown. See you next week.