Budget battles: Big Bird under attack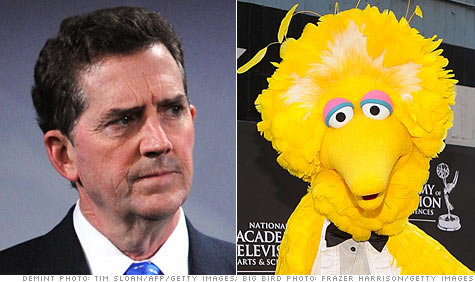 NEW YORK (CNNMoney) -- Friday was the 155th day the federal government has operated without a budget, and some lawmakers spent it arguing over nickels and dimes.
Republican Sens. Jim DeMint of South Carolina and Tom Coburn of Oklahoma introduced a bill Friday that would save a little more than $400 million a year by stripping all federal funding for the Corporation for Public Broadcasting. (Budget Held Hostage: Day 154)
That's $400 million with an "m," not a "b" -- and it pales in comparison to the roughly $3.5 trillion the government will spend this year.
Still, the senators framed the issue as a fiscal plus.
"Our nation is on the edge of bankruptcy and Congress must make some tough choices to rein in spending, but ending taxpayer subsidies of public broadcasting should be an easy decision," DeMint said in a statement.
Indeed, every little bit counts. But a squabble over funding for NPR and PBS does nothing to advance the discussion over the prime issue in the next two weeks: How to avoid a government shutdown.
Lawmakers' deadline is March 18, when the latest short-term spending bill -- the fifth this year -- expires. That's the game of chicken the government has been playing since the fiscal year started on Oct. 1.
On Friday, President Obama sent his top lieutenants to Capitol Hill to start negotiations with Republicans on a compromise bill. It would appear that little progress was made.
The White House put an additional $6.5 billion in cuts on the table, but Republicans are hoping to cut ten times that, and have already passed a bill in the House that would do just that.
The bill is called H.R. 1, and it would also strip funds for public broadcasting.
Democrats in the Senate, as well as President Obama, have declared that bill a non-starter. They object not only to the total amount of spending cuts, but the ideological bent of some items.
As if to prove their point, DeMint railed against NPR and PBS for accepting donations from liberal organizations like MoveOn.org and a group backed by liberal financier George Soros in an op-ed published Friday in the Wall Street Journal.
"Highly successful, brand-name public programs like Sesame Street make millions on their own," DeMint said, citing sales from toys and consumer products. "With earnings like that, Big Bird doesn't need the taxpayers to help him compete against the Nickelodeon cable channel's Dora the Explorer."
A spokeswoman for Sesame Workshop, which produces "Sesame Street," would not comment on the proposal, but the company's website says that 93% of production costs for the show are covered by licensing activities or corporate sponsorships.
The bill introduced Friday by Coburn and DeMint might be the start of an effort to isolate some of those controversial political issues and jump them onto another legislative track.
But regardless of the legislative vehicle, stripping public broadcasting of funds will be met with a fierce outcry from supporters of NPR and PBS.
There is already a small army of lobbyists on Capitol Hill lobbying in defense of the funding, which the organizations insist provide a crucial boost to their budgets.
A vast majority of federal funds directed to CPB trickle down to local stations, and if those funding levels are cut, supporters of public broadcasting say, many stations, especially in rural areas, would be significantly impacted.
And that, after years of fighting over the issue, seems to be where the two sides part.
"The federal government has no business picking winners and losers in today's highly competitive media environment. NPR and CPB will do just fine without largesse from Washington," Coburn said in a statement.