Nissan Leaf's restart problem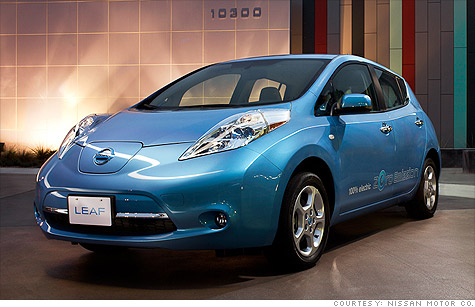 FORTUNE -- The much-anticipated Nissan Leaf battery-powered sedan has been hit with its first mechanical malfunction, acknowledged over the weekend at headquarters in Japan, a problem affecting an unspecified number of vehicles that can prevent the vehicle from restarting.
According to Nissan, the problem resides in a sensor in the air conditioning system. If the sensor is activated "it will illuminate a warning light on the instrument panel" and the may prevent the car from restarting once it's been shut down.
Nissan described the number of vehicles affected as "a small number." The Japanese automaker said it is investigating to discover the "root cause" of the failures and what actions to take. So far Nissan hasn't issued a recall because the malfunction has no bearing on vehicle safety.
But the number has to be small simply because the number of Leafs sold so far is small. Leaf went on sale globally in December; only 452 have been delivered to date in the U.S. The car is built in Japan.
Technical glitches aren't unusual at the start of production of new vehicles, though anything relating to Leaf is bound to draw more scrutiny than a new vehicle with an internal combustion engine since Leaf belongs to the vanguard of modern electric-vehicle technology.
With battery power only, the Leaf differs from gas-electric hybrid models like the Chevrolet Volt and Toyota Prius, which are equipped with internal combustion engines that work in tandem with batteries.
Leaf, which costs about $33,000 not counting a $7,500 federal rebate, is the first mass-produced family-sized pure electric. It has four doors and seating for five. It can travel up to 90 miles on a single charge, though that figure could be lower depending on style of driving, temperature and other factors.
Proponents of electric-vehicle technology say it represents a breakthrough for alternative energy, eventually paving the way for carbon-free sources of energy such as solar to power mass transportation. Some skeptics say cars like the Leaf aren't ready for prime time, because they don't offer enough range and in any event rely on electricity from power plants that typically burn coal or other fossil fuels.
I'm going to make an educated guess, based on years of reading vehicle recall notices, that Leaf either will have to undergo replacement of a sensor or adjustment of the software controlling the air conditioning system. Bottom line: Not a big problem, especially for a vehicle that represents so much new technology.
A much bigger development for Leaf and its near-term sales is the runup in gasoline prices, which could influence some carbuyers to buy an EV or a hybrid as a way to save money by switching away from fossil fuel-based transportation. While some motorists could save just as much or more by buying a light subcompact car with a conventional engine -- Leaf and its ilk maintain an undeniable cachet with the Save-the-Planet crowd.