Why it's good that Ghosn didn't go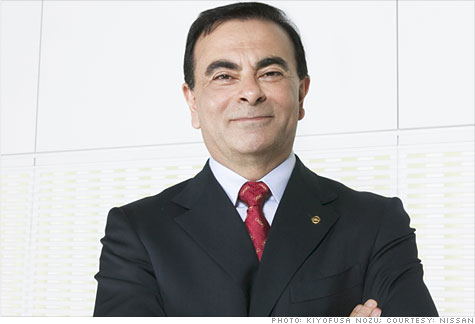 FORTUNE -- The first quarter of 2011 has been quite a tumult for Carlos Ghosn, chief executive officer of Renault AG and Nissan Motor Co. In Paris he is mired in a faux spy scandal. In Japan he is trying to get Nissan's operations back on track after the damage and dislocation caused by the March 11 earthquake.
Ghosn, toured Nissan's Iwaki plant only 30 miles from the damaged Fukushima reactors, urging workers at the plant to show "fighting spirit" in reviving production, according to the Japan Times. He announced the plant will start building engines again by the middle of this month and resume full production by early June, at the latest.
The investigations into the events so far hasn't presented evidence publicly of what precisely led Renault to fire three top executives in January on suspicion that they had leaked secrets about the automaker's electric-vehicle program, possibly to parties in China. But the French government, which owns 15% of Renault, is trying to figure out whether Ghosn and the automaker had been duped by their security chief, who is now under arrest.
The tragedy in Japan serves to divert attention from unseemly events at the French automaker that could led to the firing of a CEO that didn't have Ghosn's sterling resume. The trip to Japan is a chance to remind workers and shareholders why he has cast a giant shadow over automaking for more than a decade. Ghosn will have to repair his standing in France; in Japan he remains a mega superstar, a giant who saved Nissan from bankruptcy a decade ago yet not too oversized to relate to the travails of Japanese citizens hit by tragedy.
Renault and Nissan collaborate as allies on several fronts and own major stakes in one another's equity.
The false accusations and apparent management breakdown at Renault that began last year have embarrassed the French government. Yet the government can ill afford to marginalize Ghosn, for perhaps only he could have led Renault's rescue of Nissan in 1999. Is this someone to send to the guillotine? Ghosn also has staked a claim to leadership in the field of electric-vehicle technology. Renault and Nissan's outsized projections for consumer adoption of electric vehicles do face skepticism and an uphill fight with consumers who find battery-powered cars costly and with governments that may tire of subsidies.
Ghosn has further proven his usefulness in the CEO's chair as architect of the alliance strategy for automaking, which has proven to be an effective means of cooperation. Rather than proposing a full-fledged merger, Ghosn designed a corporate structure that allows Nissan and Renault to remain autonomous, though affiliated. Renault could simply have bought Nissan; but it would have risked a culture clash like the one that help spoil Daimler AG's acquisition of Chrysler.
In terms of boldness, few CEOs can match his record. Renault would be hard pressed to replace him -- and the automaker's board surely wouldn't want to risk facing him as the CEO of a competitor. Ford (F, Fortune 500) and General Motors (GM) each tried to hire him.
"I agree that he'll probably survive" as Renault's chief executive, said Jeff Sonnenfeld, a specialist in executive leadership at Yale University's School of Management. "His superhero shield of invincibility has been pierced, from now on he'll be seen as mortal."
Sonnenfeld said Ghosn "did the right thing" by returning $2.3 million of his 2010 pay and forgoing this year's stock options. He also was correct in refusing the resignation of Patrick Pelata, chief operating officer, and "allowing due process to unfold."
French police subsequently arrested Renault's security chief while boarding a plane for Africa; the official, Dominique Gevrey, is under suspicion of having perpetrated a financial fraud upon the automaker using the spying accusations as a cover. The three Renault executives have been exonerated and offered their jobs back.
Sonnenfeld said directors sometimes act impulsively to fire chief executives and are sorry for their haste afterwards. Having falsely accused its own employees, "Renault needs to put in a procedure of due process with the right of appeal," he said, to ensure that a similar scandal doesn't reoccur.
What will be most instructive once the uproar dies down in Paris is what Ghosn says he and other CEOs may learn from Renault's phony spy scandal.