Stock picks from a pro: Wally Weitz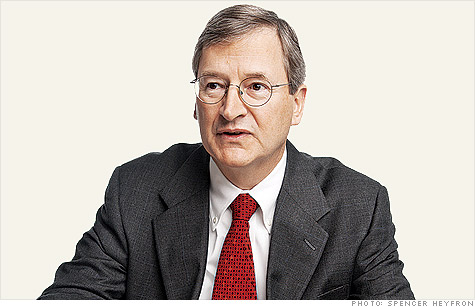 (MONEY Magazine) -- Wally Weitz is a picky guy. He holds fewer than 50 stocks in each of the four funds he manages or co-manages -- including Weitz Hickory, a "go anywhere" portfolio on our MONEY 70 list.
Like fellow Omahan Warren Buffett, Weitz focuses on companies trading for less than what he thinks is their long-run business value. He spoke with reporter Susie Poppick.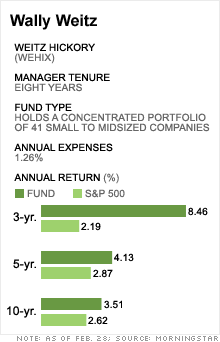 Can you find value in a market that's doubled in less than two years?
If we don't find compelling value, we'll hold cash. Our funds' cash positions right now range from 15% to 30%.
So how do you decide that a stock is compelling?
We're looking for companies that have some control over their destiny. They generate more cash than they need and have ways to reinvest. Or they'll buy back shares.
Once we measure business value -- the present value of all cash an owner can expect over the years -- we want to be able to buy stock at a big discount to it. So if something goes wrong, or we measured the value wrong, we still have a chance to profit.
Are there any industries that look cheap now?
Rocks and gravel. Martin Marietta Materials (MLM) and Eagle Materials (EXP), which we hold in Hickory, own quarries.
These firms depend on construction, which is depressed and may stay that way for a while. But the transportation cost of stone is high, so when someone needs rocks, he has to use the local source. That creates pricing power. We think a takeover buyer would pay a big premium to current market prices for these companies.
Anything in health care?
Omnicare (OCR, Fortune 500) is the largest distributor of geriatric medications. It had problems of execution and integrating acquisitions. Now there's a new CEO with lots of ideas to get the company growing again. Even if it takes time, the stock is cheap for the cash it throws off.
Weitz Value fund owns Microsoft (MSFT, Fortune 500). What's the case for value there?
It's trading for just 10 times earnings and has tons of cash. Windows and Office are huge, but Microsoft gets no respect because it's not done a terrific job redeploying profits. The value of the business is underestimated; in a quiet way, the stock is likely to find its way to a 20% or 30% higher price over a year or two.