"There's no such thing as a perfect plane."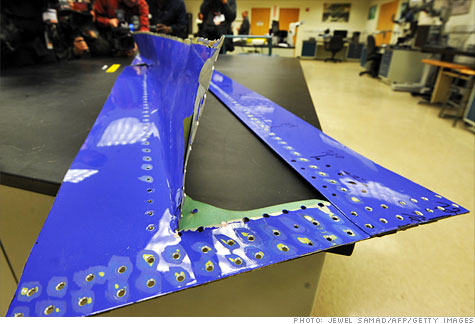 FORTUNE -- The strange thing about the hole that caused the emergency landing of Southwest's flight 812 on April 1 is that it occurred in a plane too young for that kind of problem. The plane is a Boeing 737-300, it's 15 years old, and Boeing says that model should withstand many more than the roughly 40,000 takeoffs and landings, or flight cycles, that this particular plane had completed.
Even so, all planes eventually crack, and planes are designed to withstand that kind of structural damage, says Dr. Robert Fredell, a metal corrosion expert and senior member of the American Institute of Aeronautics and Astronautics: "Every airplane has defects in it?there's no such thing as a perfect plane."
In fact, he says, designing aircraft that happen to crack prematurely helped Boeing (BA, Fortune 500) gain an advantage over the competition when the first 737 started flying in 1965.
Much of the stress that flight cycles place on the Boeing 737 occurs around a part of the plane called the lap joint, which connects thin sheets of metal that form the skin of the aircraft. On a 737, adjacent sheets of metal are bolted together where they overlap, forming the joint. The entire plane experiences pressure changes as it takes off and lands, again and again, with the most wear and tear occurring at the seams.
Some planes are built to withstand pressure changes better than others. As the primary example, the Boeing 737's main competition when the plane was released in 1965 was the McDonnell Douglas DC-9. This plane employed butt joints where the Boeing 737 uses lap joints?butt joints connect sheets of metal flush with one another instead of overlapping them. That style of construction distributes stress in a way that makes planes less likely to crack at the joints. The bodies of DC-9s can last up to 50 years without suffering the kind of cracks that show up in 737s after only 25, Fredell says.
The DC-9s, however, were more expensive to build than the 737s, partly because of the difference in joints. Ultimately, the 737s won out over the DC-9s. While some DC-9s are still in service, there hasn't been a new one built since 1982. "Classic" models of Boeing 737s--meaning the 300, 400 and 500 series--stopped being produced between 1999 and 2000. Newer models of 737s are still being built. These models, according to Boeing spokesman Doug Alder, have a different design that won't result in the same joint failure seen in classic 737s.
In any case, the 737-300 planes designed with lap joints meet Federal Aviation Administration standards. In fact, the emergency landing on April 1 can be seen, in a sense, as an example of the design working well.
"If the joint is going to fail, you want it to fail softly," says Fredell, and the joints on Southwest plane's did. The 737s, in fact, are designed so that when small cracks occur, the plane maintains enough pressure to make a controlled descent.
But despite the Southwest (LUV, Fortune 500) plane's ability to tolerate damage well, Boeing was surprised the plane had to bear this kind of damage at all. The company's chief 737 engineer admitted at a press conference last Tuesday that Boeing had not expected to see that type of crack in a plane that young. By Boeing's estimates, the plane should have been able to fly another 20,000 cycles before experiencing a structural crack.
This is not the first problem that Boeing has had with lap joints in 737s. In 1988, an Aloha Airlines 737 jet lost a section of the side of a plane because of a lap joint failure that created a hole large enough for one flight attendant to be sucked out and killed. One element in this accident was that the Aloha plane was used for frequent, short flights between the islands in Hawaii and had flown many cycles.
That doesn't seem to be a factor in the Southwest incident, according to Fredell. Even though the airline is known for its short flights, that shouldn't have elevated the risk that the plane might crack, he says, because all airlines with 737s use them for short-distance flying.
Southwest had to ground 300 flights during the weekend following its emergency landing. Boeing and the FAA have since recommended that, worldwide, 175 aircraft be checked for cracks. Of these, 79 are Southwest's; minor cracks were detected in five of them and all five have been fixed and cleared to fly.
The results of the investigation probably won't harm Boeing, according to an analyst report by Cowen and Company, which notes that, "fatigue issues, once identified, are correctable." Boeing has meanwhile lowered the inspection point for some of its 737s to 30,000 flight cycles, which, though it will increase the airlines' costs, raises the probability that problem joints will be detected.
The 737s are still an extremely successful airplane for Boeing, Fredell says. That fact is likely to hold down the repercussions from this most recent premature crack.