U.S. trade deficit narrows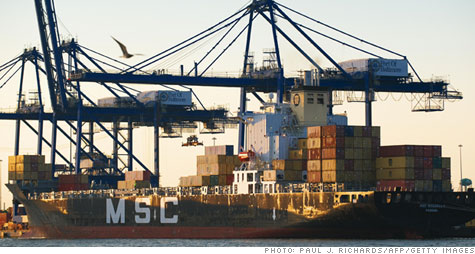 NEW YORK (CNNMoney) -- The U.S. trade gap narrowed in February, as both exports and imports declined during the month.
The trade balance, which measures the difference between the nation's exports and imports, narrowed to a $45.8 billion deficit in February, down from a revised $47 billion in January, the Commerce Department said Tuesday.
The United States has had a trade deficit since 1975, as Americans have used more foreign goods than they export.
While the latest data points to improvement in the imbalance, the decline in exports shows slower U.S. production. And the decline in imports also marks lower demand for products and services within the U.S.
Both could be seen as a sign that the economy is slowing.
"Global and domestic demand took a step back for the first time in a handful of months," Jennifer Lee, a senior economist with BMO Capital Markets said in a research note.
Exports totaled $165.1 billion in February, down $2.4 billion from the month before. Imports totaled $210.9 billion, or $3.6 billion less than in January.
Economists are also shrugging off February's narrowing as a temporary blip, expecting surging oil prices to push the deficit wider in March and April.
Oil imports averaged only $89.50 a barrel in February -- which seems like eons ago, Lee said. Oil plowed through the $100-a-barrel mark in March and hit $110 a barrel in April.
Overall, economists are expecting next month's data to show the trade gap slightly limited economic growth in the first three months of the year.
"It looks like net trade was a drag on real GDP growth in the first quarter, adding to other evidence that the economy has slowed," Paul Dales, senior U.S. economist with Capital Economics said in a research note.
Economists at Deutsche Bank are predicting exports grew by only 6% year-over-year during the quarter, half the speed of imports. That prediction alone has led them to cut their forecast for overall economic growth to 3.3% from 3.8%.
In February, the trade gap narrowed between China and the United States -- but it remains the world's largest trade imbalance between two countries.
China exported $18.8 billion more in goods and services to the U.S. than it imported from Uncle Sam during that month. That gap stood at $23.3 billion in January.