China posts quarterly trade deficit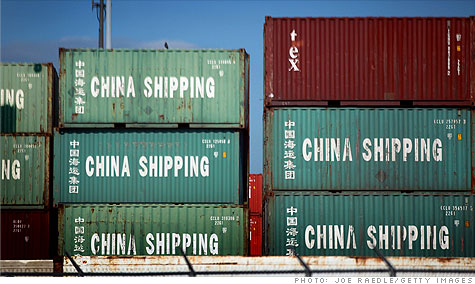 NEW YORK (CNNMoney) -- For the first time in seven years, China reported a quarterly trade deficit, as imports soared to an all-time high.
Imports outweighed exports by $1.02 billion in the first three months of the year, China's government said Sunday. That's a stark contrast to the country's $13.01 billion surplus in the same period a year ago.
China's General Administration of Customs attributed the trade gap to rapid domestic growth, surging prices for food, energy and other raw materials, and a long vacation during Chinese New Year in February.
Imports soared 32.6% from the year-ago quarter, to a record high of $400.66 billion. Meanwhile exports increased 26.5%, to $399.64 billion.
For March, China reported a small surplus, with exports outweighing imports by $140 million. That comes after the country reported a $7.3 billion trade deficit in February, when exports were limited by the Chinese New Year.
Exports surged 35.8% in March over the prior 12 months, to $152.2 billion in March. Imports rose at a slightly slower, albeit still very fast-paced, rate of 27.3% to $152.1 billion.
Economists said they weren't completely surprised by the trade data, given China typically exports less during the first three months of the year.
"We think this is something that is temporary for the quarter," said Chi Sun, China economist with Nomura Securities in Hong Kong. "For the past few years, the first quarter always has the slower trade. We don't think that will be continued for the rest of this year."
As the Chinese economy hurls ahead at a speed far outpacing the United States and other developed nations, the government has tried to encourage more domestic demand, and lessen the country's dependence on exports.
Sun said the latest data shows Chinese officials are having some success on that front, as imports grew in volume -- not just in their dollar amount.
"If we look at the import data, we realize there are two drivers for strong import growth," Sun said. "The first, everyone knows, are high commodity prices. The other is -- we also see quite strong growth in the volume of import goods. And that points to growing domestic demand."
Imports of autos and auto parts rose 31.8% in the first quarter. The volume of machinery imports grew 31.8% and crude oil imports grew 11.9%.
Sun attributes stronger domestic demand to income growth in China, which has been part of the country's rapid inflation story over the past few years.
Global trade imbalances
China is the world's second largest economy after the United States, but has long surpassed Uncle Sam as an export powerhouse.
For 11 of the past 12 months, China has exported far more goods than it imports -- a sore point for the U.S., as the world's largest economy grapples with a massive trade deficit.
U.S. government officials have recently criticized China for keeping its currency, the yuan, artificially low, giving the country an unfair advantage in the global marketplace. A weaker yuan helps make Chinese goods exported to the U.S. cheaper.
Now, China may point to its deficit in the first quarter as evidence that it is no longer contributing to global trade imbalances, Carl Weinberg, an economist with High Frequency Economics in Valhalla, N.Y., wrote in a report Sunday.
Even still, he added that the U.S. and other developed nations are likely to continue calling for China to let the yuan appreciate more freely.
Lagging about a month behind China's monthly data, the U.S. Commerce Department is scheduled to report its latest trade balance numbers for February on Tuesday morning.
--CNN's Helena Hong in Beijing contributed to this report.