Google's profit up 17% but misses Street's expectations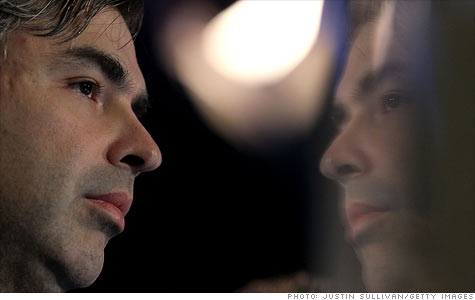 NEW YORK (CNNMoney) -- Investors hoping brand-new CEO Larry Page would pull a rabbit out of his hat were disappointed Thursday, when Google reported a quarterly profit that rose from year-ago results but missed Wall Street's forecasts.
Shares of Google (GOOG, Fortune 500) dropped 5% after hours.
Google is still making gobs of money. The world's online search leader said its net income in the first quarter rose to $2.3 billion, or $7.04 per share, up 17% from a year earlier. Sales rose 27%, to $8.6 billion.
But investors have grown nervous about the fact that Google is maturing -- and, they fear, plateauing.
Page, who took over last week from outgoing CEO Eric Schmidt, plans to invest aggressively in product development. He's already begun the biggest hiring surge in Google's history -- which upped Google's headcount by 8% last quarter, to more than 26,000 employees -- and recently shuffled Google's top management to put six executives in direct command of the company's key product lines.
"We're in very good hands with our team," Page said on a conference call with analysts following Google's earnings release.
Page kept his appearance brief, and didn't stick around for questions. Instead, he offered a few quick and vague comments about the company's outlook.
"There is tremendous improvement to be had in our core products," he said. "We are very optimistic about our future."
Patrick Pichette, Google's chief financial officer, delved into the details.
Google's results for the quarter included one-time charges totaling $1.04 per share. Without the charges, Google said it earned $8.08 per share. Analysts polled by Thomson Reuters, who typically exclude one-time items from their estimates, had forecast earnings of $8.10 per share.
Profit rose as both the number of clicks on Google's ads and the amount that advertising partners pay per click increased substantially: Paid clicks rose 18%, and cost per click grew 8% compared to last year.
The company said several of its products are making significant headway, especially YouTube, which has seen its ad sales double on an annualized basis.
Display advertising, the Chrome browser and mobile are all growing as well: Google said 120 million people use its browser every day. Android users have now downloaded 3 billion apps -- up 50% just from last quarter.
"We are building multi-billion dollar businesses, and now is the time to invest," Pichette said. "We're taking some bold steps, but always with a strong rationale in mind."
On top of its hiring spree, Google invested nearly $900 million last quarter in new infrastructure and absorbed the cost of a 10% company-wide salary increase. The company said it expects to continue to make "significant" capital expenditures going forward.
That concerned analysts on the call, many of whom questioned the impact that would have on Google's margins.
Google's management responded that the payoff from the increased spending will be great new products that drive new revenue. Pichette said he is confident the company would continue to grow its quarterly sales in the high-20% range.