Google plans biggest hiring year in company history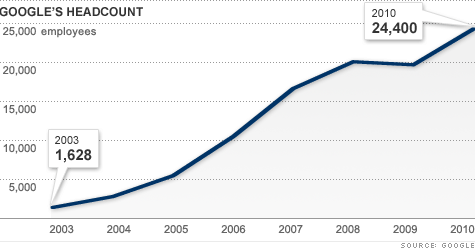 NEW YORK (CNNMoney) -- Google is about to go on a hiring binge.
The company said Tuesday that it plans to recruit a record number of new employees in 2011, as it pushes forward with an increasingly diverse product portfolio.
Google said in a blog post that it expects to exceed its 2007 hiring record, when the company added more than 6,000 people to its ranks. Last year, Google (GOOG, Fortune 500) grew by about 4,500 employees, which was its second-largest year for headcount growth.
"We're looking for top talent -- across the board and around the globe -- and we'll hire as many smart, creative people as we can to tackle some of the toughest challenges in computer science," Alan Eustace, Google's vice president of engineering and research, said in the company's blog.
That's a pretty good deal for the thousands who will become new Googlers: The search giant ranked No. 4 on Fortune's recently released "Best Companies to Work For" list.
Eustace cited enormous growth in Google's Android mobile operating system, Chrome browser and Google Apps platform as the most prominent reasons why the company needs new blood. More than 300,000 Android smartphones are activated each day, and Google's display and mobile advertising units have become multi-billion dollar businesses for the company.
Google is also involved in a number of emerging projects that require engineering resources, like Google Voice, an all-Web PC operating system and even robot cars.
All of that has led to the company's continued growth -- countering fears that Google would turn out to be a one-trick pony with its core search product. Last quarter, the company posted 26% sales growth and a 29% rise in profits over the year before.
In 2008, Google had its first and only mass layoff. It cut 300 positions in its sales, marketing and recruiting units, a move it linked to the recession.