As gas goes up, Ford and GM go down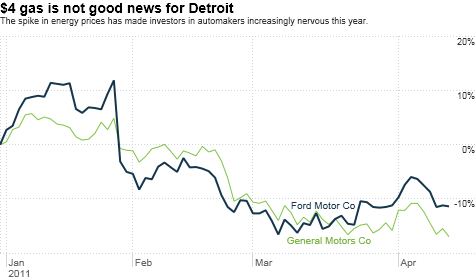 NEW YORK (CNNMoney) -- It's hard to believe that it was only five months ago that General Motors made a triumphant return to the public markets.
The leaner and meaner GM (GM) (thanks bankruptcy and government bailout!) priced its initial public offering on November 18, 2010, at $33 a share -- the high end of an upwardly revised range.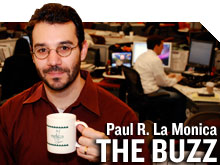 Shares rose nearly 4% on their first day of trading. By early January, the stock was hovering around $39.50. That was then.
GM's shares have plunged 15% so far this year, and are down more than 20% from their early January peak. The reason is pretty simple. Gas prices.
The average nationwide price for gasoline on the day of GM's IPO? $2.89 a gallon. Today? $3.81.
Investors are clearly worried that the nascent rebound in auto sales may go poof, as consumers feel more pain at the pump. Why buy a new car, even if it is small and fuel-efficient at a time like this?
While GM's stock has taken the biggest hit this year, it's clearly not alone.
Shares of Ford (F, Fortune 500) are down more than 10%. So are the U.S.-listed shares of Japan's Honda (HMC) and Nissan (NSANY). Even shares of electric car maker Tesla (TSLA) are down about 5% this year.
All automakers -- but particularly the Japanese ones -- have had to bear the added burden of dealing with disruptions following March's earthquake and tsunami. Toyota's (TM) stock, while only down 1% this year, has plummeted more than 10% in the past few weeks.
But is the drop in most of the automaker stocks an overreaction? Some experts think so.
Jon Burnham, manager of the Burnham Fund (BURHX) in New York, said worries about part supply shortages due to Japan should fade soon. Burnham owns Ford and preferred shares of GM in his fund. He added that he'd buy more Ford stock if it falls much further.
"There are a lot of companies around the world that make auto parts and I suspect Ford and GM will get what is needed," he said. "Sure it will have some effect, but the reality is that it is a short-term issue."
As for gas prices, analysts are still predicting steady sales growth for Detroit's Big Two publicly traded companies this year. Wall Street expects Ford's sales to rise 5% this year and that GM's sales will increase 6%.
Kirk Ludtke, an analyst with CRT Capital Group in Stamford, Conn, said that even though high gas prices are a concern now, he believes that automakers still should benefit from two key longer-term trends.
He said auto sales in the U.S. should continue to rebound from the depths of 2008 and 2009, and demand from emerging markets such as China and India is likely to keep growing.
Strength in developing markets is obviously key. And Ludtke said he thinks GM, which is a market leader in China, is likely to capitalize the most on the growth of that market.
Emerging market sales are probably a key reason why shares of India's Tata Motors (TTM) have continued to hold up well too. The U.S.-listed stock of Tata is down about 4% this year, but shares are still up nearly 50% over the past 12 months.
But David Whiston, an analyst with Morningstar in Chicago, said investors should not underestimate the pent-up demand for cars in the U.S. either.
Whiston pointed out that the number of cars scrapped in 2009 and 2010 was higher than the number of new cars sold. That's first time that has happened since World War II. And that trend can't last forever.
With GM and Ford now trading at only about 8 times 2011 earnings estimates, Whiston said both stocks -- as well as the foreign automakers -- are great values.
"Yes, there will be more bad news for everyone to come in the short-term because of gas prices. But for the patient investor, this is a great buying opportunity," Whiston said.
-- The opinions expressed in this commentary are solely those of Paul R. La Monica. Other than Time Warner, the parent of CNNMoney, and Abbott Laboratories, La Monica does not own positions in any individual stocks.