McDonald's hiring 50,000 workers today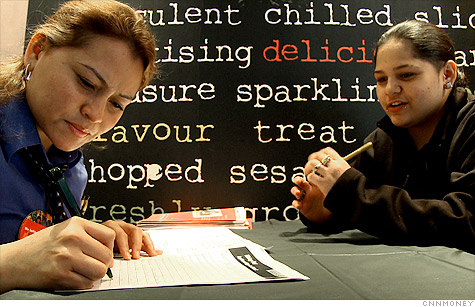 NEW YORK (CNNMoney) -- McDonald's hiring spree is underway. The fast-food chain plans to hire 50,000 workers -- or roughly four people per restaurant -- in a one-day jobs blitz that spans all 50 states.
In midtown Manhattan, restaurants saw a slow but steady stream of applicants flowing in all morning. Job seekers ranged from high school students on spring break to the long-term unemployed.
Gary Phaneuf, 55, of Staten Island submitted his application after being laid off from a messenger position nearly two years ago. A 1978 graduate of Cornell University, Phaneuf said he fell on tough times later in life and now is looking for any job he can get.
"I'm currently not working, so I thought it would be smart to come in and fill out an application," he said. "I'll take anything. I'm just trying to get a job now."
Applicants started filling out forms at the 51st Street and Broadway location at 7 a.m. Within three hours, that restaurant had 25 walk-in applicants.
A couple of blocks away in Rockefeller Center, McDonald's (MCD, Fortune 500) corporate communications team corralled a swarm of media covering the campaign the chain is calling National Hiring Day.
Early in the day, reporters and camera crews there outnumbered applicants nearly 5 to 1. McDonald's also brought on extra public relations staff to greet media at various locations throughout the city.
That said, it's not about the publicity, McDonald's spokespeople stressed. The chain has a genuine need for 50,000 new workers, said Danitra Barnett, vice president of human resources for McDonald's USA.
"This is not a promotion McDonald's is running," she said. "We are doing this because we are in an environment, in an economy, where there are people that need jobs and want jobs, and we have open positions to fill."
The new openings are available across 14,000 restaurants nationwide and include crew and management positions, part-time and full-time jobs.
The starting wage is typically more than $8 an hour, McDonald's spokeswoman Ashlee Yingling said -- but many of the stores list a starting wage of $7.25 online -- the same as federal minimum wage.
While that can be hard to live on -- especially in New York City -- many applicants said they don't mind.
Some say they see McDonald's as a steppingstone to a better career later on, either within or outside the company. And for others, even a low wage is better than none at all.
A year ago, Md. Azizur Rahman, 62, came to New York from Bangladesh, where he worked as a bank manager overseeing a staff of more than 50 people. Now he's hoping to clean bathrooms at McDonald's as a way to earn an income and improve his English.
His nephew Abdullah Ahmed got his start at a McDonald's about 10 years ago -- also with little English skills -- and has since worked his way up to better paying restaurant and retail jobs.
It's a different story for Daisy Otero, 20, who sees McDonald's as a place to get her feet wet in the job market.
A recent high school grad, she wants to study visual arts in college. On Tuesday she applied for jobs at Abercrombie & Fitch, Hollister and McDonald's all near Times Square, because she wants to get customer service experience and job references, as well as pay for her tuition.
According to McDonald's spokespeople, 75% of their restaurant managers and 40% of corporate employees started as restaurant crew members.
Barnett, who works in McDonald's corporate headquarters outside Chicago, got her start that way, as did one of Fortune's 50 Most Powerful Women, McDonald's USA President Jan Fields.
"We've got an opportunity because we're a growing business to give people chances to grow into management," Fields told CNNMoney earlier this month.
Restaurant managers have the opportunity to earn $50,000 a year, she said.
McDonald's encourages interested applicants to apply in person at their local restaurant or online.
Since the beginning of the year, food service jobs have been one of the fastest growing segments of the job market, accounting for 63,500 jobs added, according to the Bureau of Labor Statistics. The average hourly wage across the sector is $11.72.