Japan's trade surplus plunges after earthquake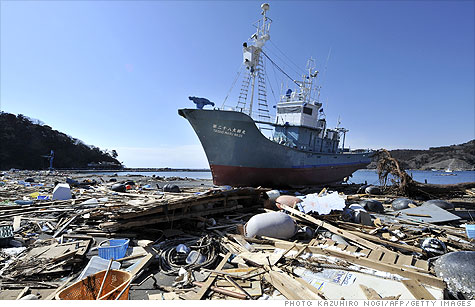 NEW YORK (CNNMoney) -- The earthquake and tsunami that devastated Japan last month also had a major impact on the country's trade balance.
Japan's trade surplus plunged a staggering 78.9% in March from year-ago levels, the country's Ministry of Finance reported early Wednesday.
But the decrease wasn't due to an abrupt slowdown in exports, which fell 2.2% from their year-ago levels. It was more the result of a dramatic increase in imports, which surged 11.9%.
The slip in exports was in line with forecasts from economists at the Japanese investment bank Nomura, but imports far exceeded expectations.
It's too early to tell if the import surge was due to recovery efforts said Kohei Okazaki, a Nomura economist based in Tokyo -- but what he does know is, overall Japanese trade stalled immediately following the earthquake. Then, in the last 10 days of the month, imports rebounded, whereas exports did not.
"We confirmed in the last 10 days of March, exports deteriorated more, and on the other hand, imports showed symptoms of recovering," he said.
Part of the surge in imports can be explained by rising costs for raw materials and oil. While Japan actually imported fewer barrels of oil, higher prices caused it to carry a greater weight in the import figures.
Japanese exports to the United States fell 3.4% while imports from Uncle Sam fell even more, at an annual rate of 6.6% in March.
Meanwhile, Japan relied more heavily on imports from other Asian countries. Imports from China, South Korea and Malaysia each surged about 25% year-over-year.
Okazaki said Japan is likely to see slower exports drag on the trade balance due to power outages and damage done to manufacturers in the earthquake, resulting in a trade deficit in April or May.
The March 11 earthquake and tsunami slammed economic activity in the world's third-largest economy, and resulted in massive power outages and factory shutdowns at companies like Toyota Motor (TM), Honda Motor (HMC), Nissan Motor and Sony (SNE).
Speaking to CNNMoney earlier this month, Akio Toyoda, president of Toyota, said it will take up to two months for the automaker to fully resume production in Japan.