CEO pay: Shareholders get a (little) say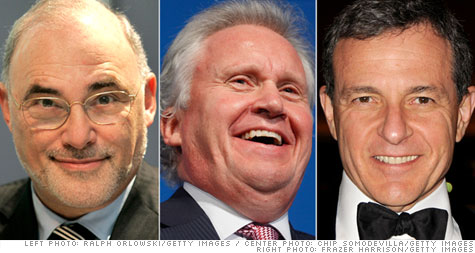 WASHINGTON (CNNMoney) -- General Electric recently made it harder for CEO Jeffrey Immelt to cash in the stock options he received as part of last year's pay package.
The reason: GE wanted to avoid a big thumbs-down on the package from shareholders next week.
As part of the Dodd-Frank law reforming Wall Street, all public companies must now hold shareholder up-or-down votes on CEO pay. While the so-called "say-on-pay" votes are symbolic and nonbinding, they're powerful enough to prompt a corporate powerhouse such as GE (GE, Fortune 500) to shake up Immelt's pay package.
More companies are curbing some of the perks that chief executives get and linking pay to company performance in an effort to head off potentially embarrassing "no" votes on CEO pay, corporate pay experts say.
Nevertheless, overall CEO pay was up in 2010.
"There's a disconnect," said Brandon Rees, deputy director of the AFL-CIO office of investment. "They're eliminating the more egregious forms of compensation without going after the size of compensation."
Among the changes companies are making:
-- On March 17, days before a potential "no" vote on its CEO Robert Iger's pay package, Walt Disney (DIS, Fortune 500) dropped its plan to pay Iger and three other executives extra "excise" taxes on the money made if they were forced to leave. That move prompted shareholder watchdog groups to change their say-on-pay recommendation from a "no" to a "yes" vote.
A Disney spokeswoman points out that the company had announced in January a policy change to seek shareholder approval before paying the excise taxes for top executives in future severance agreements. But the March 17 change went further and affects existing severance agreements.
-- CEOs at Amgen (AMGN, Fortune 500) and Phillips-Van Heusen (PVH) will also have to pay their own tax bills on any possible severance.
-- More companies, including Hospira (HSP) and Gibraltar (ROCK), are making it tougher for CEOs to collect a big payoff known as a "golden parachute" unless both a merger happens and the CEO also loses his job. Previously, the CEO reaped the bonanza in the event of a merger.
The new mandatory votes on CEO pay were instituted to crack down on an executive practice that was seen as a contributor to the financial crisis. During the height of the boom years, CEOs benefited personally through bonuses tied to soaring stock prices, even if the company was over-leveraged and making risky bets.
In the case of GE, whose CEO is doubly in the spotlight as the chief of President Obama's jobs panel, the company decided to tie Immelt's pay closer to the company's future performance -- just in time for next week's annual shareholder meeting and say-on-pay vote.
So now if Immelt wants to cash in stock options worth $7.4 million -- nearly half of his $15.2 million pay package in 2010 -- he must first strengthen GE cash flow and also make sure GE profits match or beat the S&P 500 over the next four years.
Until it made that change, GE was at risk of joining five other companies whose shareholders opposed CEO pay: water transmission equipment maker Ameron International (AMN), home builder Beazer Homes (BZH), computer products maker Hewlett-Packard (HPQ, Fortune 500)., technology firm Jacobs Engineering Group (JEC, Fortune 500) and Shuffle Master (SHFL), which makes casino gaming equipment.
CEO pay packages at those firms had been on a thumbs-down list put together by Institutional Shareholder Services Inc., one of several advisory firms that suggest how shareholders should vote on CEO pay. On Monday, the ISS reversed course and gave GE a thumbs up.
Still, the ISS still has a list of 107 companies whose CEO pay practices deserve no votes. That's about 12% of the 870 companies the group reviews, according to ISS spokesman Ted Allen.
However, sometimes a company's efforts to curb CEO pay perks don't succeed. Last year, Abercrombie & Fitch (ANF) announced an unusual effort to discourage CEO Michael Jeffries from using the corporate jet for personal use -- a $4 million payout.