Is the economy losing its mojo?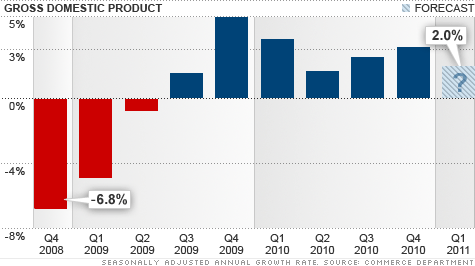 NEW YORK (CNNMoney) -- Inflation took a big bite out of the recovery in the beginning of the year, according to the latest forecasts, which have plummeted over the last several weeks.
In 2010, the economy seemed to be on firmer footing, finishing out the year with a 3.1% growth rate in the final three months, compared to the same period last year.
But a CNNMoney survey of economists predicts that the pace of growth slowed to just 2% in the first three months of this year. Only three weeks ago, expectations were for 2.7%, while some forecasts ran as high as 4.3% just one month earlier.
The government is set to announce first-quarter gross domestic product -- the broadest measure of the nation's economic health -- on Thursday.

But the good news is that economists don't expect the sluggish quarter to drag down growth for the entire year. They're forecasting the economy to grow at a healthy 3.1% pace for all of 2011, just slightly below the 3.5% growth rate they were forecasting earlier in the year.
"We view the first quarter as being a pause in the pace of expansion," said David Berson, chief economist for the PMI Group. "That won't stand in the way of a modest expansion over the remainder of the year."
The cause of this sudden wave of pessimism? Rising oil and gas prices. High pump prices act like a tax on consumers, forcing them to cut back spending on other items. In addition, the large amount of oil the United States imports means that higher prices cause the trade gap to widen, which also cuts into GDP.
Other factors cited by some of the 22 economists who responded to the survey include businesses holding back on increasing their inventories and less construction activity than previously expected.
New home sales have also been near record lows for the last two months, even as prices for new homes have tumbled 11% since the end of last year. Existing home prices slid 5% in the same time period.
Surprisingly, jobs have been a bright spot in the economy in recent months. The unemployment rate fell a full percentage point from November to 8.8% last month.
While a weaker economy produces less demand for hiring, the slowdown does not necessarily mean that the labor market is in for another round of job cuts. In fact, some economists mentioned that jobs seem to be on pace for modest gains even in the face of the slowdown.
"Other data, such as business surveys, employment growth and industrial production, point to a firming economic recovery and we have not changed our view that 2011 will be a relatively solid -- but far from spectacular -- year for growth," said John Ryding, chief economist for RDQ Economics.