State retiree benefits gap grows to $1.26 trillion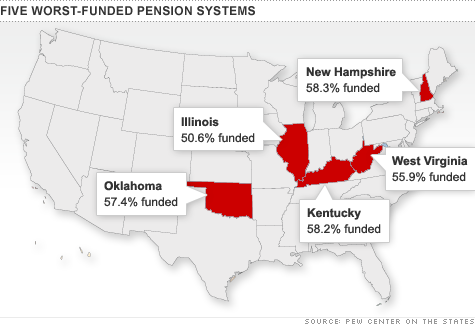 NEW YORK (CNNMoney) -- States are $1.26 trillion in the hole when it comes to their pension and retiree health obligations, according to a report released Tuesday.
And taxpayers are ultimately on the hook for this shortfall, which soared 26% in one year.
The Great Recession has wreaked havoc on states' pension and retiree health systems, the Pew Center on the States found. The report covers fiscal year 2009, which began July 1, 2008 in most states.
States are largely responsible for this predicament. As tax revenues plummeted, many skipped part or all of their annual retiree benefits contributions as they struggled to pay for education, Medicaid and other services.
"Far too many states have not responsibly managed the cost of retirement benefits, effectively running up the price for taxpayers," said Susan Urahn, the Pew Center's managing director.
States only contributed a total of 64% of the nearly $115 billion their actuaries recommended they put in their retirement benefits accounts for that year, the center said.
The years of underfunding means that states now face a $660 billion gap in their pension accounts.
Meanwhile states socked away a mere 36% of the recommended $47 billion in funding for their retiree health and other benefits. Even more concerning -- 19 states have saved nothing for these obligations, instead of paying the costs as they are incurred, the Pew Center said.
The implosion in the stock market didn't help matters. Pension plans suffered a median 19.1% drop in their asset value during fiscal 2009, although they have recovered somewhat since then.
In fact, other pension experts claim that the Pew figures don't take into account more recent investment gains. Federal Reserve data shows that at the end of 2010, state and local pension funds had a total of $2.93 trillion in assets, up 35% from their low point in early 2009, according to a report published this month by the National Association of State Retirement Administrators and the National Council on Teacher Retirement.
"Much has changed in the last 18 months -- virtually all of it for the better," said Hank Kim, executive director of the National Conference on Public Employee Retirement Systems, which represents public sector pension funds.
But even if the market has improved, many states are still looking to minimize their retiree costs. These benefits -- which are funded through contributions from employees and state employers, as well as investment returns -- are largely guaranteed by union contract. Shortfalls are usually made up by hiking residents' property or income taxes.
To be sure, there is no immediate crisis. States have decades to pay out these benefits. But many governors and lawmakers are scrambling to find ways to reduce these retiree obligations now so that they don't spin further out of control.
Pension plan funding falls
State pension systems were about 78% funded in fiscal 2009, down 6 percentage points from a year earlier, according to the Pew study. Most experts recommend states maintain a funding level of at least 80%.
Illinois is in the worst shape. The Prairie State's pension system is only 51% funded, and it made only 71% of its latest required contribution. The state has had to borrow billions to make its payments, though lawmakers recently agreed to make the state's full fiscal 2012 contribution of nearly $4.5 billion.
New York is in the best condition, with a funding level of 101%. That's because it has faithfully made its contributions over the years, Urahn said.
The retiree health funding picture is even more dire. States face a total liability of $635 billion, but have set aside only $31 billion, the study showed. Two states -- Alaska and Ohio -- account for 62% of the money reserved for these benefits.
While retiree health coverage is easier to scale back than pension promises, it could pose a bigger problem in the future. That's because the burden is expected to balloon as the Baby Boomers retire and health care costs skyrocket, Urahn said.
"The pay-as-you go approach is going to become quite onerous for some states," Urahn said.
Adding to states' troubles is the level of investment return they include in their pension calculations. They typically assume an average annual return of about 8%, but some experts are arguing this is too high. At least six states have cut their assumed investment return, though this requires them to make even higher contributions.
This ticking time-bomb has led state officials to seek to bring their retiree obligations under control. At least 19 states took action to reduce their liabilities last year, and more are expected to do so in 2011, according to the Pew Report.
Governors and state lawmakers are looking to make current employees contribute more and to cut benefits for future workers. Some officials even want to disband public employee unions so they can more easily change retiree benefits.
Going forward, the picture remains mixed. The stock market has recovered, boosting pension plan asset values. But officials are still struggling to make their payments.
The Pew Center collected fiscal 2010 for 16 states and found that pension funding levels declined in 10 of them. Their collective funding level fell to 75%, from 77%.
"The legacy of the recession will be evident on pension fund balance sheets for some time," Urahn said.