N.J. governor wants workers to pay more for benefits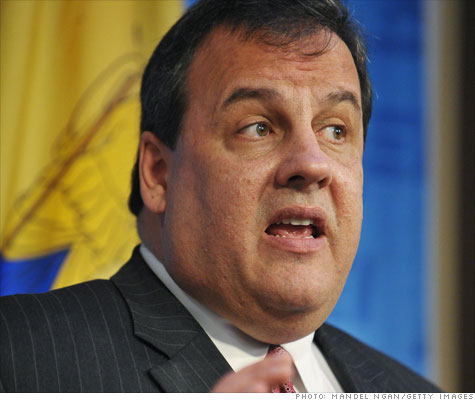 NEW YORK (CNNMoney) -- New Jersey Governor Chris Christie introduced a $29.4 billion budget Tuesday that demands many concessions from state workers, as well as cuts spending and taxes.
Christie, who has gained a national reputation for coming down hard on public employees, wants workers to pay more for their health care. Raising their co-payments and premiums will save the state $323 million. By 2014, the governor would require them to pay for 30% of their medical benefits, up from 8% now.
And he gave lawmakers extra incentive to act and workers extra pressure to comply. If these changes are made, the state will be able to double property tax rebates.
The governor also reiterated his call for legislators to overhaul the state's strapped pension system, which has a $54 billion deficit.
Not only does he want workers to contribute more, but he is looking to raise the retirement age and eliminate annual cost-of-living adjustments. If reforms are made, Christie said he'll make the required $506 million payment to the system immediately.
Christie, a hard-charging Republican, came into office last year promising to shake things up. His reform agenda, first unveiled last fall, would put New Jersey on a more solid financial footing, he said.
"The bottom line is simple -- these reforms are the only way to solve our long-term fiscal problems," he said in his budget address. "They are the only way to keep the system solvent."
In his speech to lawmakers, he outlined the dire scenario facing the Garden State. The pension system has a $54 billion deficit and, without reform, the annual state contribution will grow to $13 billion.
Meanwhile, health care benefits cost $4.3 billion a year and is projected to grow another 40% over the next four years.
Lawmakers will now have the chance to dissect and vote on Christie's budget. Democrats, who control both houses, have already come out against the proposal, saying the governor is looking for scapegoats, not solutions.
Christie is certainly not alone in demanding more concessions from public employees. Governors and lawmakers around the nation want workers to shoulder more of the cost for their benefits. And some, such as Gov. Scott Walker in Wisconsin, even want to take away their right to collectively bargain for them.
The state teachers' union, a particularly favorite target of Christie in the past, immediately blasted the budget proposal. The increased contributions would translate into a 15% pay cut for educators, according to the New Jersey Education Association.
"In this budget, the governor continues to scapegoat public education employees by pitting senior citizens and all of New Jersey against them," said Barbara Keshishian, the association's president. "He may claim there are no new taxes in his budget, but don't tell that to New Jersey's teachers and school employees, who would take a huge hit under his proposals."
Spending and tax cuts
Workers are not the only ones who would suffer under Christie's budget.
The proposal, which reduces spending by 2.6% for fiscal 2012, calls for cutting funding for environmental protection by 10% and for health and senior services by 15%. Cities would lose 10% of their aid. Medicaid recipients would be shifted into managed care, saving $41 million.
The budget, which eliminates an estimated $10.5 billion budget gap, is not all bad news.
Christie would increase education aid by $250 million and maintain state funding for higher education and municipalities. It would also increase funding for hospitals and services for the developmentally disabled.
And his budget includes nearly $2.5 billion in tax relief and incentives for businesses over the next five years, as well as increased property tax rebates for residents.
The governor has already taken an ax to the state budget. A few weeks after taking office in January 2010, he had to close a $2 billion budget gap. Later that spring, he eliminated an $11 billion shortfall by deeply cutting spending across the board, but also by skipping a $3.1 billion pension payment and suspending the property tax rebate.
But the Garden State's financial troubles have also gained it some unwanted attention. Earlier this month, Standard & Poor's lowered its credit rating on New Jersey's debt to AA- from AA, citing concerns about its massive retirement obligations. The state has nearly $33 billion in debt, among the highest in the nation.
"The lower rating reflects our concern regarding the stresses from the state's poorly funded pension system, substantial post-employment benefit obligations, and above-average debt levels," said Standard & Poor's Credit Analyst Jeffrey Panger.