Home prices in 'double dip'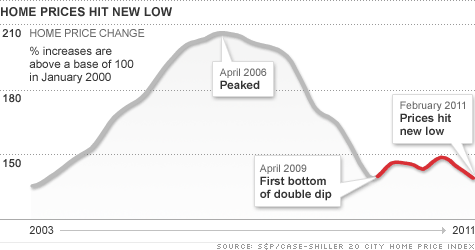 NEW YORK (CNNMoney) -- Home prices in February sank 3.3% to just above the post-crisis lows reached in April 2009. It was the seventh straight month of declines.
Home values are down 32% from their peak set in May of 2006, according to the S&P/Case-Shiller index of home prices in 20 cities.
"There is very little, if any, good news about housing," said David Blitzer, spokesman for S&P. "Prices continue to weaken, trends in sales and construction are disappointing."
The drop has come in two stages. First, the index recorded 36 months of nearly uninterrupted declines after reaching the spring 2006 peak. Then came a 13-month upswing during which the index recorded a 5% gain. That rebound ended last June.
Since then, the index has recorded losses every month and it has now edged closer to a new low -- the dreaded double-dip. (8 best shrinking places to live)
The index now stands at 139.27, just a whisker above the first low, which came in April of 2009, when the index was at 139.26.
Of the 20 housing markets covered by the index, only Washington recorded a price increase from last year -- 2.7%.
In Phoenix, where prices are off a whopping 56% from their peak, prices fell 8.4% over the past 12 months, more than any other metro area. Minneapolis was close behind with a 8.3% drop and Chicago prices plunged 7.6%.
Price rebound a distant memory
Economists say the initial rebound after the financial crisis was artificially inflated by government initiatives.
Lawmakers implemented a tax credit for homebuyers. And the Federal Reserve helped keep mortgage rates low.
Also artificially supporting prices at the time was a decrease in the supply of foreclosed properties. That was the result of government loan modification programs, but many foreclosed properties have again come back to market.
Distressed properties -- bank repossessions and short sales -- now account for more than 30% of sales, and they've been selling at about a 34% discount to conventional sales. ('10 foreclosure hotspots')
Peter Morici, who teaches finances at the Smith School of Business at the University of Maryland, is one pessimist. He thinks homebuyers are hunkering down, unconvinced that conditions will improve.
"There is deep pessimism about the economy," Morici said, "and people are reluctant to make the commitment to buy homes."
On the other hand, according to Mark Fleming, chief economist for CoreLogic, housing markets may not really be as bad as the data indicate.
Fleming thinks you have to discount the impact of foreclosed properties. Exclude them, he said, and you see more stability.
When home prices decline, it can lead to more foreclosures. Price drops force mortgage borrowers underwater. They then owe more on their loan balances than their homes are worth. That, in itself, leads to more foreclosures.
Underwater borrowers have no home equity to tap should they run into financial hot water. Being underwater can also freeze them out potential mortgage refinancings because banks won't approve new loans for homes whose values have dropped below old loan balances.
"That puts more homeowners at risk of foreclosure," said Anthony Sanders, director of Real Estate Entrepreneurship at George Mason University. "Refinance credit has evaporated for many borrowers."
It's a vicious cycle of home price decreases, which cause more foreclosure, which depress prices and so on and on.
"Now you know why Mr. Bernanke has been trying to inflate home prices," said Sanders, referring to the Federal Reserve chairman.
Prices will likely continue to fall for a while, according to Chen. Conditions will start to improve once the economic recovery gains traction and job growth improves.
Correction: An earlier version of this story said that the home-price decline in February marked the eighth straight month of declines; in fact in was the seventh.