Sony dives into tablet race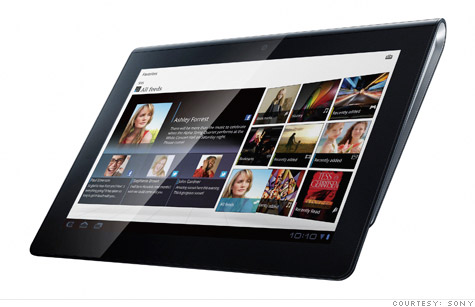 NEW YORK (CNNMoney) -- Sony is diving into the tablet race, announcing Tuesday that is working on two gadgets that will hit the market this fall.
One of the tablets, code-named S1, will be a flat slate with a 9.4-inch screen, just a touch smaller than Apple's iPad.
Its S2 tablet will be more unusual, with two 5.5-inch displays and a folding design. The displays can be combined into one large viewing surface or used separately.
Both tablets will support Wi-Fi and 3G and 4G wireless networks, and will run on Google's (GOOG, Fortune 500) Android operating system.
Sony didn't offer a precise timeline for its tablets' release, saying only that they will be available globally in "fall 2011." It also didn't give any details about pricing for either tablet.
Sony, which said at January's Consumer Electronics Show that it was working on a tablet but offered few specifics, joins a long list of dozens of electronics makers struggling to catch up to Apple's giant head start.
So far, few of those efforts have impressed. Research in Motion's (RIMM) PlayBook debuted this month to lackluster reviews, while Motorola's (MMI) pioneering Xoom -- the first to run Google's tablet-optimized "Honeycomb" version of Android -- has sold sluggishly.
Meanwhile, Apple (AAPL, Fortune 500) has sold nearly 20 million iPads since launching the device a year ago.
A fresh wave of rivals will hit the market later this year, including HP's TouchPad, one of the few tablets built around an operating system other than Android. HP (HPQ, Fortune 500) is using its own webOS, which HP inherited when it bought Palm, as the foundation of its tablet development.
Sony (SNE) went for the relative safety of Android, but it promises that its S1 and S2 will stand out from the pack. The S1 will have an "off-center" form factor designed for easy gripping, while the dual-screen S2 borrows its design inspiration from popular portable gaming devices like Nintendo's DS.
Sony also plans to integrate its Sony Reader e-book software and build in home-entertainment features. The S1 tablet will be able to serve as a universal remote control and transfer content like videos and music to compatible television and wireless speaker systems.