Exxon hits back at gas price anger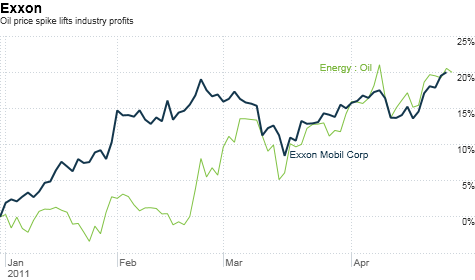 NEW YORK (CNNMoney) -- In an attempt to deflect rising anger among American drivers and political leaders, Exxon Mobil said Thursday that it makes relatively little money on gasoline, even as it reported a nearly $11 billion quarterly profit.
"We understand that it's simply too irresistible for many politicians in times of high oil prices and high earnings -- they feel they have to demonize our industry," said a statement from Exxon vice president Ken Cohen.
The statement argued Exxon is not to blame for the recent surge in gas prices, now above $4 a gallon in many areas.
Exxon argued that most of its profit comes from overseas operations, and that earnings in its refining business, which converts crude into gas, make up only 6% of its earnings.
The company said the recent surge in oil prices is due to strong global energy demand, and a stormy political climate in the Middle East and the weak U.S. dollar.
In addition, Exxon said federal and state taxes make up 40 to 60 cents of the price for a gallon of gas, compared with the 7 cents per gallon that the company earns.
Exxon also lashed out at the task force recently created by the Obama administration to crack down on speculation in the oil and gas market.
In response to recent criticism of tax loopholes for the oil industry, Exxon said it has paid nearly $59 billion in U.S. taxes over the past five years, including $9.8 billion last year.
The retort came after Exxon Mobil, the world's largest publicly traded oil company, said it earned $10.7 billion in the first three months of 2011, up from $6.3 billion in the same period last year.
Exxon chief executive Rex Tillerson said the performance reflects higher crude oil and natural gas "realizations," using industry jargon for prices.
Tillerson also pointed to strength in Exxon's chemicals business and improved refining margins.
Oil prices averaged $95 a barrel in the first quarter, compared with $79 a barrel in the first quarter of last year.
But the rally in the oil market accelerated toward the end of the quarter, with prices powering above $100 a barrel in March. In April, oil prices have averaged nearly $110 a barrel, up 20% from the start of the year.
The spike in gas prices has weighed on consumer spending, and put a damper on economic growth in the first quarter.
While oil prices remain below the record highs of nearly three years ago, the recent run has raised hopes among investors that 2011 could be another banner year for Exxon.
In 2008, Exxon reaped the largest annual profit of any company in U.S. history, reporting a whopping $45 billion on the back of high oil prices. Its largest quarterly profit, $14.8 billion, came in the third quarter of that year.
Other major oil companies have also benefited from the recent run-up, including Royal Dutch Shell (RDSA), which said Thursday that profits rose 40% in the first quarter to $6.9 billion. Chevron (CVX, Fortune 500), the world's second-largest publicly owned oil company, is scheduled to report results Friday.
Despite the strong results, shares of Exxon (XOM, Fortune 500) edged down 0.6% to $87.27 each. But the stock is up 20% so far in 2011, making it the best performer in the Dow Jones industrial average after Caterpillar (CAT, Fortune 500).