GDP: Economic recovery stumbles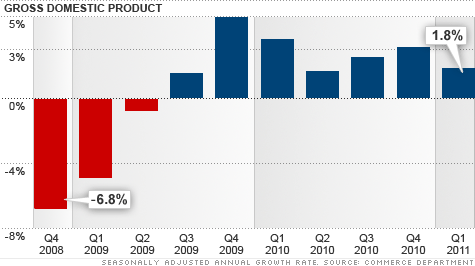 NEW YORK (CNNMoney) -- Economic growth slowed to a crawl in the first three months of the year as a spike in gasoline, higher overall inflation and continued weakness in the housing market all took a toll on the recovery.
Gross domestic product, the broadest measure of the nation's economic health, rose at an annual rate of 1.8%, the Commerce Department reported Thursday. That's a significant slowdown from the 3.1% growth rate in the final quarter of 2010.
Most predictions for growth have fallen precipitously over the past several weeks as rising prices spooked forecasters. Economists surveyed by CNNMoney were predicting growth of 2.0% in the first quarter. But some estimates were as high as 4.3% just two months earlier.
"Undoubtedly, consumers are cutting discretionary spending to compensate for rising food and energy prices," said Jim Baird, chief investment strategist for Plante Moran Financial Advisors. "The risk of recession in the near-term remains slim, but an extended period of slow growth isn't likely to encourage an enthusiastic mood any time soon."
The sharp rise in oil prices in recent months was a major drag on growth. Besides cutting into consumer spending, higher prices for imported oil caused a rise in the nation's imports, which slowed the economy. The increase in imported goods shaved 0.8 percentage points off of growth by itself.
Rising overall inflation also took a bite out of growth in the quarter. Since GDP is adjusted for inflation, higher prices mean the economy must grow at a faster pace just to keep up. Consumer prices were up 3.8% from a year earlier, according to the report, compared to a rise of only 1.7% in the fourth quarter.
And the weak real estate market continued to weigh on the economy, as investment in homes and housing construction fell at a 4.1% pace in the quarter, while investment in non-residential real estate, such as offices, stores and factories, plunged by 29%.
Government spending fell across the federal, state and local levels, also hitting the economy. The push for greater fiscal austerity shaved 1.1 percentage points off of growth.
But economists surveyed by CNNMoney are expecting the slowdown to be temporary -- they still project full-year growth of 3.1% for 2011.
"It's a weak number, but behind the scenes, it's showing some strength," said John Canally, senior economist with LPL Financial. "The economy is just not that weak. The data shows this is a one-time thing and we'll get a rebound this quarter."
Canally said he believes weather factors also cut into growth in the first quarter.