Debt ceiling fight is here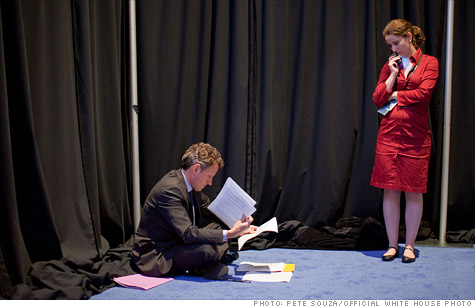 NEW YORK (CNNMoney) -- When lawmakers return to Washington on Monday, the debate over raising the nation's debt ceiling will kick into hyperdrive.
That's because Congress is now staring down a series of deadlines to raise the country's legal borrowing limit. First up: May 16, Treasury's latest estimate as to when U.S. debt will hit the country's $14.294 trillion ceiling.
That's only two weeks away. If Congress doesn't act, the Treasury would employ a range of extraordinary measures to prevent the United States from defaulting on its obligations.
That reprieve will last until July 8.
"The overwhelming sense on the Hill is that July is the real deadline," said Sean West, U.S. political risk analyst at Eurasia Group.
So basically, get ready for one giant game of chicken. (Debt ceiling: What you need to know)
One thing is certain: Congress will eventually come together on a vote to raise the country's legal borrowing limit. The markets will demand as much.
How that deal is reached, and what it looks like, is anybody's guess.
In exchange for lifting the borrowing limit, Republicans are hoping to extract a promise of spending cuts, or put a cap on future spending in place. Democrats will push back hard.
"This is a multi-faceted negotiation," West said. "It's very difficult to forecast the exact outcome."
The current political landscape has lawmakers scattershot across a variety of positions. The Tea Party, and the freshmen they sent to Washington, are opposed to raising the limit.
Meanwhile, some Democrats have broken with the party line, and are now openly advocating for debt reduction measures to be attached to any measure that bumps up the ceiling.
Other variables: What will the new limit be set at? Will any modifications to Medicare, Medicaid or Social Security be on the table?
Washington in recent months has been buzzing with proposals to cut trillions of dollars from the federal budget, and broad reforms to tackle entitlement spending.
West says it is very unlikely anything like that will be attached to a debt ceiling vote. After all, lawmakers just brought the government to the brink of shutdown over $10 billion or so in spending cuts.
"Somehow they are going to agree on $4 trillion in reductions?" West asked. "These ideas are incompatible."
On Thursday, Vice President Joe Biden will convene a bipartisan working group to start fiscal negotiations with members of Congress.
Rest assured, Wall Street will be paying more attention with each passing day.
"The market right now is not focused on this," West said. "But once you awake the market monster on the debt limit, it's going to be very hard to get a good political bargain."