I want a new drug! Health care stocks on fire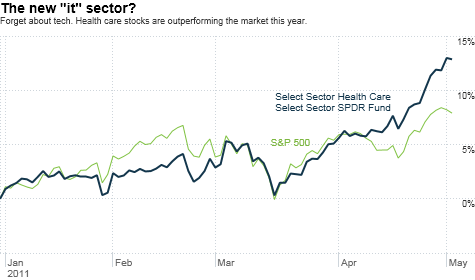 NEW YORK (CNNMoney) -- Remember how last year's controversial health care reform law was supposed to be the death knell for drug stocks and other medical companies? That hasn't exactly happened.
Health care stocks have been among the market's better performers this year.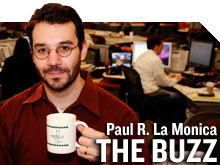 The Health Care Select Sector SPDR (XLV), an exchange-traded fund that includes top pharmaceutical companies, biotechs, medical equipment firms and health insurers, is up 13% this year. The S&P 500, by way of comparison has gained 8%.
But can this last much longer? You have to admit that the strong rally for drug stocks and other health care companies is more than a bit curious.
Drug stocks tend to be so-called defensive bets. The companies do well when investors are nervous about the economy and financial markets.
Sure, the economy did experience a slowdown in the first quarter. But that hasn't deterred the bulls. It's not as if health care is shining in a down market.
Stocks overall are having a solid 2011. But other sectors that you'd expect to do well during a recovery are beating the broader market. The SPDR S&P Retail Sector (XRT) and Industrial Select Sector SPDR ETFs (XLI) are each up about 10% for example.
So what's really driving health care? Earnings have been pretty solid. Bristol-Myers Squibb (BMY, Fortune 500), Eli Lilly (LLY, Fortune 500) and biotech Amgen (AMGN, Fortune 500) all reported first quarter profits that topped analysts' forecasts.
Some of the mega-mergers from the past few years appear to be paying off as well.
Drug giant Merck (MRK, Fortune 500) reported solid first-quarter results last week. Part of that strength was thanks to products it inherited from its 2009 purchase of Schering-Plough, such as allergy spray Nasonex and consumer products like off-the-counter allergy medication Claritin and sun tan lotion Coppertone.
Merger activity in health care has picked up this year too. On Monday, Teva Pharmaceuticals (TEVA) agreed to buy biotech Cephalon. Last week, Johnson & Johnson (JNJ, Fortune 500) said it would scoop up Swiss medical equipment firm Synthes for more than $20 billion.
And it's almost certain that there will be more deals to come. Many drugmakers face the dual problem of weak pipelines for future drugs and the looming patent expiration of key blockbusters.
Another reason investors may be gravitating toward the health care sector is because many of the stocks are still pretty cheap. Part of that may be due to how poorly health care companies did in 2009 and early in 2010 because of fears of health care reform.
Some of the worst-case scenarios about health care reform's impact on profits diminished a bit after Republicans won control of the House and gained ground in the Senate during last fall's mid-term elections.
"Health care was one of the worst performing sectors last year. But worries about the regulatory environment have definitely lessened," said Andrew Fitzpatrick, director of investments with Hinsdale Associates, a money manager in Hinsdale, Ill. His firm owns Pfizer (PFE, Fortune 500) and medical equipment maker Baxter (BAX, Fortune 500).
Even with the recent bounce in the group, many big drug companies are at extremely reasonable prices. British pharma company AstraZeneca (AZN) is trading at only 7 times 2011 profit forecasts. Biotech leader Gilead Sciences (GILD, Fortune 500) is trading at just 10 times this year's earnings estimates.
"The move into health care stocks is really valuation driven," said Jason Pride, director of investment strategy at Glenmede, an investment management firm in Philadelphia. Pride said his firm has been gradually shifting some money into health care stocks.
The group may also be attractive to investors who are looking for income -- and aren't getting it from Treasury bonds. The yield on the 10-year U.S. Treasury is a measly 3.27%. GlaxoSmithKline (GSK), Merck and Bristol-Myers Squibb all pay dividends that yield more than 4%.
But investors have to be careful. Since health care stocks have emerged as a market leader, that means there's more pressure on the companies to live up to what can be unreasonable expectations. Just look at what happened to Pfizer Tuesday.
The company has been one of the hottest stocks in the Dow Jones industrial average this year. Pfizer reported profits that beat estimates but sales missed. Shares fell about 2.5%.
Funny. You'd think that health care was the new tech all of a sudden.
The opinions expressed in this commentary are solely those of Paul R. La Monica. Other than Time Warner, the parent of CNNMoney, and Abbott Laboratories, La Monica does not own positions in any individual stocks.