Barney Frank tries to restructure Fed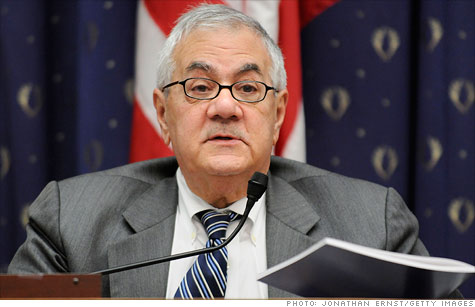 NEW YORK (CNNMoney) -- Rep. Barney Frank took on Wall Street as one of the writers of the sweeping Dodd-Frank financial reform bill last year. Now he is taking on the Federal Reserve.
The Massachusetts Democrat announced Tuesday morning that he's introducing a bill that would dramatically downsize the Federal Reserve's policymaking committee, eliminating five regional Fed presidents from having a say in the central bank's decisions.
The Federal Open Market Committee, or FOMC, is structured to include 12 voting members, made up of seven Fed governors and five presidents from regional Fed banks.
The committee meets eight times a year to vote on interest rates and other monetary policy decisions that affect the entire U.S. economy by influencing credit conditions, inflation and unemployment.
Frank's main complaint is with the selection process. Unlike Fed governors, the regional bank presidents are not selected by elected officials, but by a board comprised of business leaders in their communities.
"These men and women are chosen by a self-perpetuating group of private citizens who disproportionately represent the private financial services industry," Frank said in a statement.
Frank believes his bill, if passed, would make the Fed's decision-making process more transparent and democratic.
But Frank's proposal would also decrease the number of voices included in the Fed's decision-making process -- a matter that some Fed watchers say could have the opposite of its intended effects.
"I'm very surprised he would be introducing this bill," said Catherine Mann, a finance professor at Brandeis University and former Fed economist. "It doesn't seem consistent with his thrust to make public policy more reactive to the overall economy."
Under the leadership of Chairman Ben Bernanke, Fed officials have talked to the media and the public more than ever before, even revealing disagreement within the Fed.
And lately, the regional presidents have been more likely to express dissent with Bernanke's policies than the other Fed governors.
Mann points out that stripping the FOMC of the regional presidents would leave the Fed's decisions solely up to the governors based in Washington, D.C. and limit the board's diversity.
"Leaving it as only the Washington people, if anything narrows the range of perspective on the state of the economy -- as opposed to widening it," she said.
There are 12 different Fed districts, but only five of their presidents serve on the Federal Open Market Committee at any given time. The New York Fed has a permanent voting spot, as the others rotate each year.