No big tax cuts for Florida businesses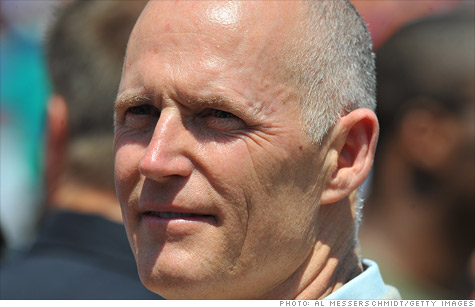 NEW YORK (CNNMoney) -- Cutting taxes may sound good, but it sure isn't easy to do.
On Tuesday, Florida's lawmakers blocked Gov. Rick Scott's aggressive plan to cut corporate income taxes by $459 million in fiscal 2012. The legislators, who are Republicans as well, said the state could not handle slashing spending deeply enough to make up for the lost tax revenue.
"As I've talked to so many members and, more importantly, business leaders across the state, they feel that stability is more important than reducing a 5.5% corporate tax rate," Senate President Mike Haridopolos, who himself is no fan of taxes, said on Sunday.
The corporate tax cut was a centerpiece of Scott's budget, which he unveiled in February before a packed audience of Tea Party supporters. The governor's pledge to cut taxes by a total of $4 billion over two years -- on top of slashing spending by $3.6 billion to balance the budget -- drew some of the largest cheers.
While many newly installed governors pledged not to raise taxes to plug their giant budget deficits, Scott is among a growing number of state officials who believe that tax cuts are the way to solve their fiscal problems. His proposal was among the most aggressive, especially considering Florida's weakened financial condition.
The defeat shows the enormous pressure state officials are under in balancing their budgets. Even those who want to make their states more business friendly are struggling not to cut too much support to the most vulnerable residents.
Instead of accepting the governor's proposal, which would have saved companies $1.5 billion over two years, lawmakers agreed to raise the corporate income tax exemption level to $25,000, up from $5,000 now. This measure, which will cost the state about $30 million in revenue, will take about 15,000 small businesses off the rolls.
A former health care executive, Scott continued to try to rally Floridians to his cause, especially after lawmakers balked at the deep cuts that would be required to support his tax initiatives. He urged them in his radio address last week to contact their lawmakers, reiterating that "meaningful tax relief is the catalyst for economic growth."
Though he did not get his rate cut, Scott is pleased with the measure approved by leading lawmakers.
"This deal is a major victory for Governor Scott and Florida businesses," said governor's spokesman.
One reason lawmakers shied away from the rate is because Florida's corporate tax rate is already among the lowest in the nation. And not everyone thinks that cutting the levy on businesses will spur growth and create jobs.
"Some in the legislature aren't convinced that that's a determining factor in convincing businesses to come to Florida," said David Bishop, Haridopolos' press secretary.
Property tax cuts approved
Though lawmakers did not agree to cut the corporate tax rate, they did give Scott some of what he asked for in his budget.
Under the budget framework that legislative leaders agreed to on Tuesday, residents will see lower property taxes, though not nearly as much as the governor promised. Homeowners will save roughly $210 million in property tax relief through lower levies from the state's water management districts. Also, residents will benefit from a three-day sales tax holiday on back-to-school supplies in August.
All told, the tax breaks total $308 million.
Also, public employees will start putting 3% of their pay toward their retirement. This is the first time they have contributed to their pension plans since the 1970s.
The spending cuts, however, will not go unnoticed.
Florida's schools will receives $1.35 billion less in funding, a decrease of about 7.9%. While classrooms will surely take a hit, the number isn't quite as bad as it seems since school districts won't have to pay as much into the pension system now that employees are contributing themselves.
College students could see tuition hikes of up to 15% at the state's schools. And hospitals will see a 12% cut in their reimbursement rates for Medicaid patients.
Lawmakers are expected to vote on the budget on Friday.