How to fix a budget crisis? Cut taxes!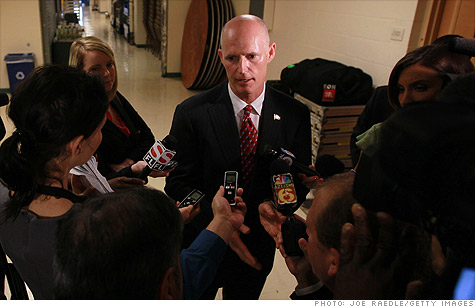 NEW YORK (CNNMoney) -- Problem: State tax revenues are down. Solution: Cut taxes.
That's the path some governors want to take to get their states back on the right economic track.
Florida's Gov. Rick Scott is pushing a plan to cut property and corporate income taxes by $4 billion over two years, at a time when his state is running a $3.6 billion budget deficit.
And in Iowa, Gov. Terry Branstad wants to cut income and property taxes on businesses and provide $160 million in property tax relief to homeowners. But he'll also have to cut $200 million in spending.
Hit hard by the Great Recession and facing budget gaps totaling more than $400 billion since fiscal 2009, states have collectively raised taxes by more than $30 billion over the past two years as revenue from income and sales levies fell off a cliff.
But this budget cycle is shaping up to be very different, in part because Republicans took over many governor's mansions and statehouses. More than a dozen governors have pledged not to raise taxes in fiscal 2012, which begins July 1 in most states.
Some governors, however, say that the key to spurring economic growth is reducing levies, particularly on businesses.
"Governors are focused on trying to create a friendly job environment," said John Thomasian, director of the National Governors Association's Center for Best Practices. "If they make the calculus that cutting taxes further will spur job growth, they'll take that calculus."
Slashing taxes during tough times
Florida's new governor is gung ho on bringing more jobs to the Sunshine State, which has a 12% unemployment rate. Some 1.1 million Floridians are out of work.
Calling his spending plan "Florida's first jobs budget," Scott said he would reduce corporate income taxes from 5.5% to 3% over two years, before eliminating the levy in 2018. He would also reduce property taxes by $1.4 billion.
"We will capture more jobs if other states have a business tax that Florida does not have," Scott said in his budget address last week. "We are competing with 49 other states and many countries for entrepreneurs who start, grow and move companies based on where they can get the best return. Cutting taxes is essential to economic prosperity."
Scott's plan, however, also includes $4.6 billion in spending cuts. Education, Medicaid, prisons and other programs would all take hits.
Not everyone is so enthusiastic about Scott's budget, including the state lawmakers who will have to approve it.
Senate President Mike Haridopolos, a fellow Republican, is a big advocate of tax cuts. But he says just eliminating the $3.6 billion shortfall in a budget that has only $30 billion in discretionary spending will be difficult enough.
So Haridopolos wants to examine what the impact of those necessary cuts would be and then he will look at lowering taxes. The Senate will be scouring the budget and hearing from state agencies in coming weeks.
"Before we look at tax relief, we have to look at the spending cuts," said Haridopolos, noting that lawmakers are getting a lot of calls about the $3.3 billion drop in education funding.
In Iowa, meanwhile, Branstad wants to cut the state's corporate income tax -- which currently has the nation's highest top tier at 12% -- in half. And he wants to lower commercial property taxes by 8% a year for five years, with new investment being taxed at only 60% of its valuation immediately.
The total package: $250 million over five years.
"Our small businesses pay commercial property taxes that are as high as those in midtown Manhattan," he said in his budget address in late January. "This budget will make us competitive for new jobs."
Residents would see $160 million in tax relief through credits that the state had not fully funded in recent years.
These tax cuts would come along with $200 million in budget cuts. This current fiscal year, Iowa took in only $5.4 billion in revenue, while spending $6.3 billion, a governor's spokesman said. It made up the difference with federal funds and transfers from other accounts.
The spending cuts in Branstad's 2012 budget would hit preschools particularly hard. Funding for preschool assistance for needy families would be cut to $43 million, down from $74 million. Parents would have to contribute more, depending on their income.
He also plans to save $89 million by reducing payroll costs at state agencies. Some newly hired government workers may lose their jobs, though Branstad's spokesman said the figure is still being tallied.
Whether Scott and Branstad get their way remains to be seen. Their budgets still have to work their way through their state legislatures.
And the jury is out on whether tax cuts really entice job growth, Thomasian said.
"Does it help? It's hard to tell," he said.