Paying for gas forces painful sacrifices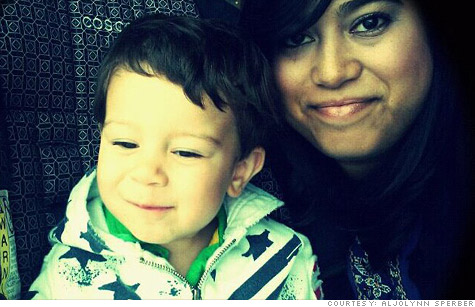 NEW YORK (CNNMoney) -- Aljolynn Sperber, a single mom in Los Angeles, says she can no longer afford to visit her family in Sacramento because of the cost of fuel.
"If I fly or drive it's expensive either way," she said of visiting her relatives 400 miles away, who she has not seen in six months. As a result, "I manage all on my own," Sperber says, "but with a toddler it's hard."
Like Sperber, the recent run-up in gas prices has left many Americans in a very tough spot.
Even as gasoline prices hover below the record high reached in July 2008 when the national average price for a gallon of regular gasoline was $4.11, they are, overall, higher for the year than they were three years ago.
If the Energy Information Administration's price projection of gas averaging $3.70 a gallon in 2011 proves to be true, the average American household will pay over $4,300 for the year, representing the largest annual expenditure ever, according to the Oil Price Information Service.
As a result, most are forced to cut back in areas of their spending where there is hardly any cushion.
"Gas prices are like Chinese water torture for consumers," said Mark Cooper, Director of Research at the Consumer Federation of America. "The problem is, once you buy your car and once you buy your house your gasoline consumption is pretty much set," he said.
"If the price goes up, people have real difficultly cutting back, and that means they will have to find other areas to cut back which are more discretionary."
For Robyn Fehring, that means taking her four-year-old daughter out of school one day a week. "My daughter had to be cut back a full day in preschool, because we simply cannot afford to take her," Fehring said. "She'll ask me why she can't go to school today and I feel terrible about it because she doesn't understand."
But with her family's gas bill in Saugerties, N.Y., now over $100 a week, preschool is not the only sacrifice. Fehring said she has also cut back on groceries and may not be able to finish her early childhood education degree in the fall.
She is currently enrolled in the College of Saint Rose in Albany N.Y., which is over an hour away. If gas prices continue to rise, the commute alone makes her schooling cost prohibitive, she says.
"If it costs $200 for me to drive back and forth to Albany, there's just no way."
Nationwide, drivers are estimated to spend 8.7% of their median income in 2011 on gas, according to the Oil Price Information Service. In 2008, they spent $3836 or 7.7% of their median income to fill up their cars.
If fuel prices continue to climb, that will also mean more problems for many Americans like Ray Robinson and his wife, Britney. They both work multiple jobs to make ends meet, but that means a lot of driving and spending on gas.
The Robinsons must carpool when they can, with Britney often dropping Ray off at his computer repair gig in Louisville, Ky. But Britney suffers from Graves' disease, an autoimmune disorder, and can suddenly feel very ill.
"If there was something that put her in the emergency room, I'm stuck where I am," Robinson said. "I think about things like that. What would happen if she went to hospital and there was no way for me to be by her side? That's a huge concern."