Job market shows signs of slow growth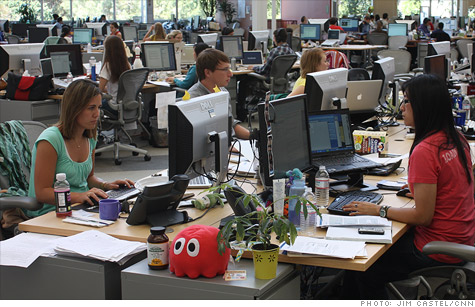 NEW YORK (CNNMoney) -- The labor market is showing signs of slow improvement: private sector employers added 179,000 positions in April and the number of planned job cuts fell, according to two reports released Wednesday.
Payroll processing company ADP said private sector payrolls grew by 179,000 in April, after a upwardly revised 207,000 increase in March. Economists were expecting a gain of 200,000 private sector jobs, according to consensus estimates from Briefing.com.
Monthly gains in employment over the last four months have been holding steady around 200,000 since the start of the year, ADP said, which is "consistent with only modest declines in the unemployment rate," the report said.
Smaller businesses led the charge in April. Medium-size businesses, defined as those with between 50 and 499 workers, and small businesses, defined as those with fewer than 50 workers, each added 84,000 jobs in the month.
Larger businesses, with 500 or more workers, added just 11,000 last month.
A separate report released Wednesday showed employers announced fewer planned job cuts in April, even as government sector layoffs mounted.
The number of jobs cut fell 12% to 36,490 from March's 41,528, according to outplacement consulting firm Challenger, Gray & Christmas. Year over year, job cuts dropped 5% from 38,326 in April 2010.
April's job cut number is the lowest so far this year, and the third lowest over the last 16 months. "The slow pace of downsizing suggests employers remain optimistic about business conditions going forward, despite higher energy costs, government deficits and slipping confidence among consumers," said John Challenger, CEO of Challenger, Gray & Christmas.
Despite the slow pace of layoffs in the economy at large, the government and non-profit sector was hit hard by job losses.
Government positions dominated planned job cuts, accounting for 10,731 job cuts last month, bringing the four-month total to 52,660.
"The weak link in the job market right now is the government sector, which continues to shed employees at a heavy rate," Challenger said. "Most of cuts tracked this year were concentrated in the state and local agencies."
The Challenger report -- along with an additional report from ADP -- typically set the tone for the government's highly anticipated monthly employment data.
Economists surveyed by CNNMoney expect the unemployment rate to hold steady at 8.8% while employers added 185,000 jobs in April. For the full year, economists expect 2.3 million new jobs - just under 200,000 per month - and an unemployment rate of 8.4% by year end.