California nightmare: Spending cuts vs. tax extension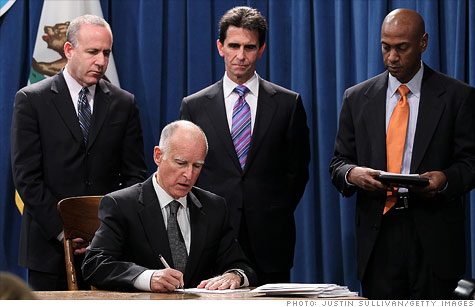 NEW YORK (CNNMoney) -- Keep paying higher taxes or face deep, painful cuts in services. Those are the options Californians are faced with.
But if the Democratic governor and Republican lawmakers can't reach a compromise, the people of California might not have a choice in the matter.
To help close the $26.6 billion budget shortfall the state is facing, Governor Jerry Brown wants to let residents vote on extending a tax hike in effect since 2009. But a month ago, he broke off talks with Republican lawmakers who blocked his push to put the tax measure on the ballot in June.
While the governor says he is still committed to letting the voters decide, he's likely to reveal a much more draconian spending plan, which won't factor in additional revenue from the tax extension, on May 16. That's when the state unveils its revised revenue and expenditure projections.
That budget will be balanced, Brown said in April.
In the meantime, he's still trying to drum up support for a tax vote by meeting with business, labor and community groups around the state.
"He still believes it's time for a check-in with the people," said H.D. Palmer, spokesman for the state Department of Finance.
At issue is tackling the Golden State's giant budget gap. Brown, who took office in January, offered a proposal that mixed major spending cuts to higher education, Medicaid and social service programs with $12 billion in additional tax revenue.
The tax measure included renewing a quarter-percentage point increase in personal income tax rates, which expired at the end of 2010, and maintaining a 1 percentage point bump in the sales tax, which lapses at the end of June. Under Brown's proposal, the higher rates would remain in effect for five years.
The legislature approved a portion of the governor's plan in March, reducing the budget deficit by $14 billion through spending cuts and fund transfers. The package whacked $1.7 billion from Medi-Cal, the state's Medicaid program, and $1.1 billion from the state's university systems.
On the tax side, Brown needed at least four Republican lawmakers and all their Democratic peers to go along with his plan to call a special election in June. But negotiations fell apart after Republicans demanded concessions, including pension and regulatory reform and a spending cap.
The governor was hoping to have the matter settled by the end of the fiscal year on June 30, though it's not uncommon for California to start a new year without a budget in place. The last one wasn't passed until October.
Brown, however, has the people's support for a special election. Recent polls show that a majority of Californians approve of the governor's plan to address the budget through both spending cuts and tax increases. They also want a say in extending the tax hikes, though they are mixed about actually approving them.
"It's a war of public opinion now," said Jean Ross, executive director of the California Budget Project, a non-partisan fiscal reform group focused on low- and moderate-income residents.
Even if the tax measure makes it onto the ballot, voters may not support it, said Daniel J.B. Mitchell, professor of public policy at UCLA. That's because residents don't want to see cuts in government services, but they also don't want to pay more in taxes.
While Brown has refrained from issuing a dire "all-cuts" budget plan, others have offered insight into what would happen if tax hikes aren't extended.
Under one scenario outlined by the non-partisan Legislative Analyst's Office, California's schools could lose $4.8 billion in funding. That could mean that class sizes would rise above 20 kids in the early grades and kindergarten would be restricted to those who are age 5, closing the door to 135,000 children.
Also, tuition at the California State University's schools could rise 10% and at the University of California campuses by 7%. And the teaching staff could be hit with $408 million in personnel reductions.
And state employees could suffer a 9.24% reduction in pay, equivalent to two furlough days per month, while seeing a 30% drop in state contributions to health care costs.
"[An] all-cuts [budget] is going to be an irreversible path forward that will leave a lot of tears in its wake," said Brown, when he signed the initial spending reduction bills in March.